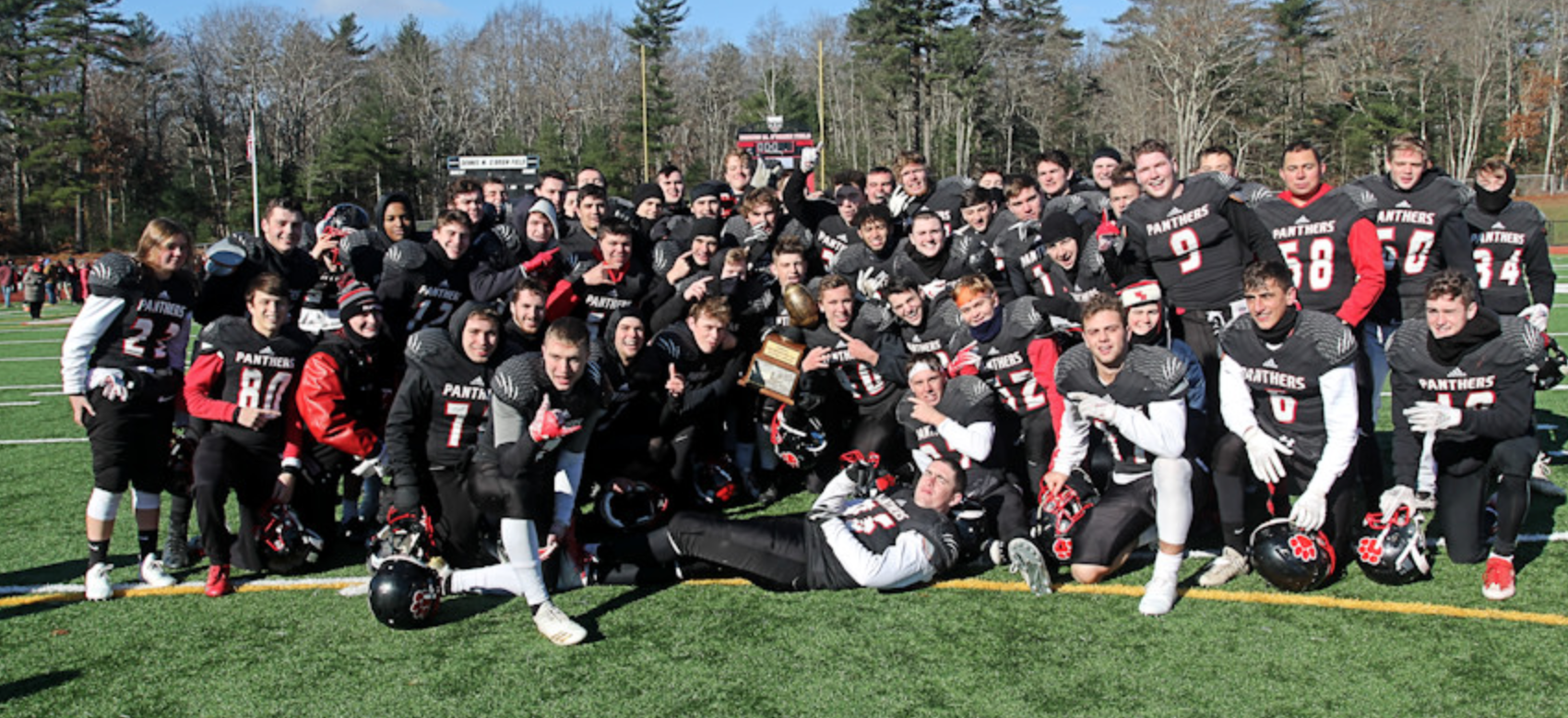 The Panthers received big-time production from their seniors en route to a Turkey Day win over Abington.
---
When the Whitman-Hanson Regional High football team bowed out of the playoffs, the heartbreak didn't last for long.
"After one or two days, we said, 'We need to step it up and let last week go. The past is in the past. We're now in the present and we need to move on,'" W-H senior captain Quinn Sweeney said of the team's emotions after a 21-13 loss to North Attleboro in the first round of the playoffs.
Yes, the disappointment still lingered, but the Panthers still had something to play for, and that's where they shifted their attention. With three games remaining in the regular season, the Panthers – 5-3 at the time – were aiming to win eight games, a feat the program hadn't accomplished since 2011. Reaching the eight-win mark was personal, especially for most of the 21 seniors who watched this team go 7-4 for the past three seasons, and played major roles in the past two.
"The next week comes," Sweeney said, "and we're like, 'Bishop Feehan. We have three more games together as a team. We need to finish strong.'"
The Panthers knocked off Feehan, 21-20, and fended off Bridgewater-Raynham, 15-14, the following week to put them one win away from No. 8 with a Thanksgiving tilt with rival Abington standing in their way. After three-plus hours of football in the subfreezing temperatures, they can finally call themselves an 8-3 football team.
Backed by a dominating defensive effort and a second-quarter scoring spurt, W-H shut out Abington (8-3), 16-0, in the 108th Thanksgiving Day meeting between the two.
Senior captain Ethan Phelps starred out of the backfield for W-H, carrying the ball 16 times for 148 yards.
Leading 6-0 after a Nate Beath (seven carries for 69 yards, TD) 6-yard TD run, Phelps took a handoff and darted 65 yards inside the 25-yard line. A few plays thereafter, senior Jake O'Brien drilled home a 23-yard field goal.
On the ensuing kickoff, a Green Wave fumble landed in the hands of Panthers senior Ryan Downing. On the next play, Phelps connected with senior captain Rian Schwede on a 25-yard TD to put the Panthers up 16-0 with less than a minute remaining in the first half.
"It feels so good," said an emotional Phelps after the game. "I'm just really happy we could pull it together and go 8-3."
W-H's defense, keyed by three fumble recoveries by Beath, took care of business the rest of the way.
Driscoll stressed the importance of his strong senior class playing in their last ever high school football games.
"It's all about the seniors," Driscoll said. "The seniors carried this game today."