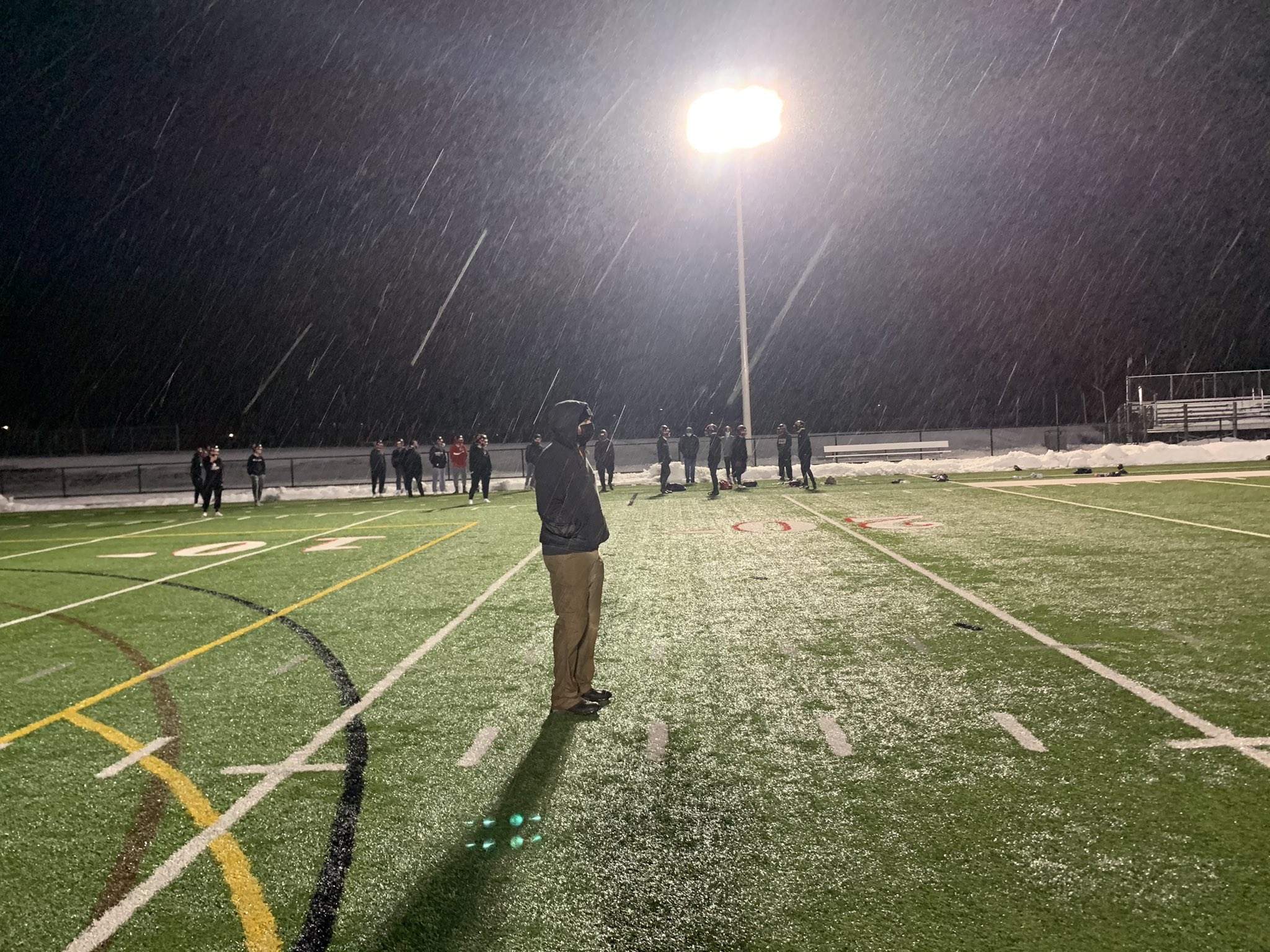 The football team is finally back on the field.
---
There's definitely a different feeling in the air, but at the end of the day football is still football.
After being apart for nearly 15 months, the Whitman-Hanson Regional High football team is back on the field — and it isn't taking it for granted.
"It felt pretty good to be running around with the kids," said head coach Mike Driscoll, who is entering his 10th year on the Panthers sideline. "We're very, very fortunate and we're extremely happy to be playing football. We're very blessed to be out there — it feels great."
The Panthers began practice on Feb. 22 and their first game is scheduled for March 12. That's less than three weeks to prepare.
"It's definitely different," Driscoll said. "In the summer, normally we have our 7-on-7s and our workouts and everything leading up to it and you kind of know what you have."
W-H has taken a few different approaches to account for missed time.
"We can't have our usual meetings inside, so we've slowed things down," Driscoll said. "We're going to do what we can do. We've limited our playbook and we're going to teach to our best ability and get ready to go out there and compete every Friday."
The Panthers, who are looking to bounce back from a 2-10 campaign in 2019, will have a new-look offense this season.
"We've made a lot of changes to our scheme and we're hoping that scheme fits our build better than in the past where we've had some really good running quarterbacks," Driscoll said. "We don't really have that right now so we've gone to more of a Wing-T-type set and we're hoping that helps us out."
The Panthers quarterback is still to be determined, at the time. Driscoll said there are five kids battling it out. That's because senior captain Jason Murphy, a returning Patriot League All-Star, converted back to running back after he was thrust under center last year due to an injury.
"Jason is a great kid," Driscoll said. "He has a great work ethic and is a real leader of the football team."
Fellow senior captain Nik Dolan could take some snaps at quarterback.
"He's gonna play all over for us," Driscoll said. "You could see him lineup at wingback, you could see him at wideout, you could see him at quarterback, he's gonna play one of those positions. Defensively, he's gonna be our safety back there and he's gonna be running the show."
Griffin Mountcastle, a two-year starter up front, is another senior captain.
"We expect big things out of him as well on the line," Driscoll said.
Senior Declan Hanaphy and juniors Malcolm Alcorn-Crowder, Hunter Baker, Zach Boisjolie, and Will Stafford will also play key roles this season.
W-H is scheduled to kick off its five-game schedule at home on March 12 at 6 p.m. against Silver Lake.
"The goal is to get five games in without having any interruptions," Driscoll said. "We're going to be competitive every week. This team is better than any team we've ever had in a few years. Athletically — it's probably the most athletes we've ever had. But as a unit they have a long way to go as far as jelling that together."