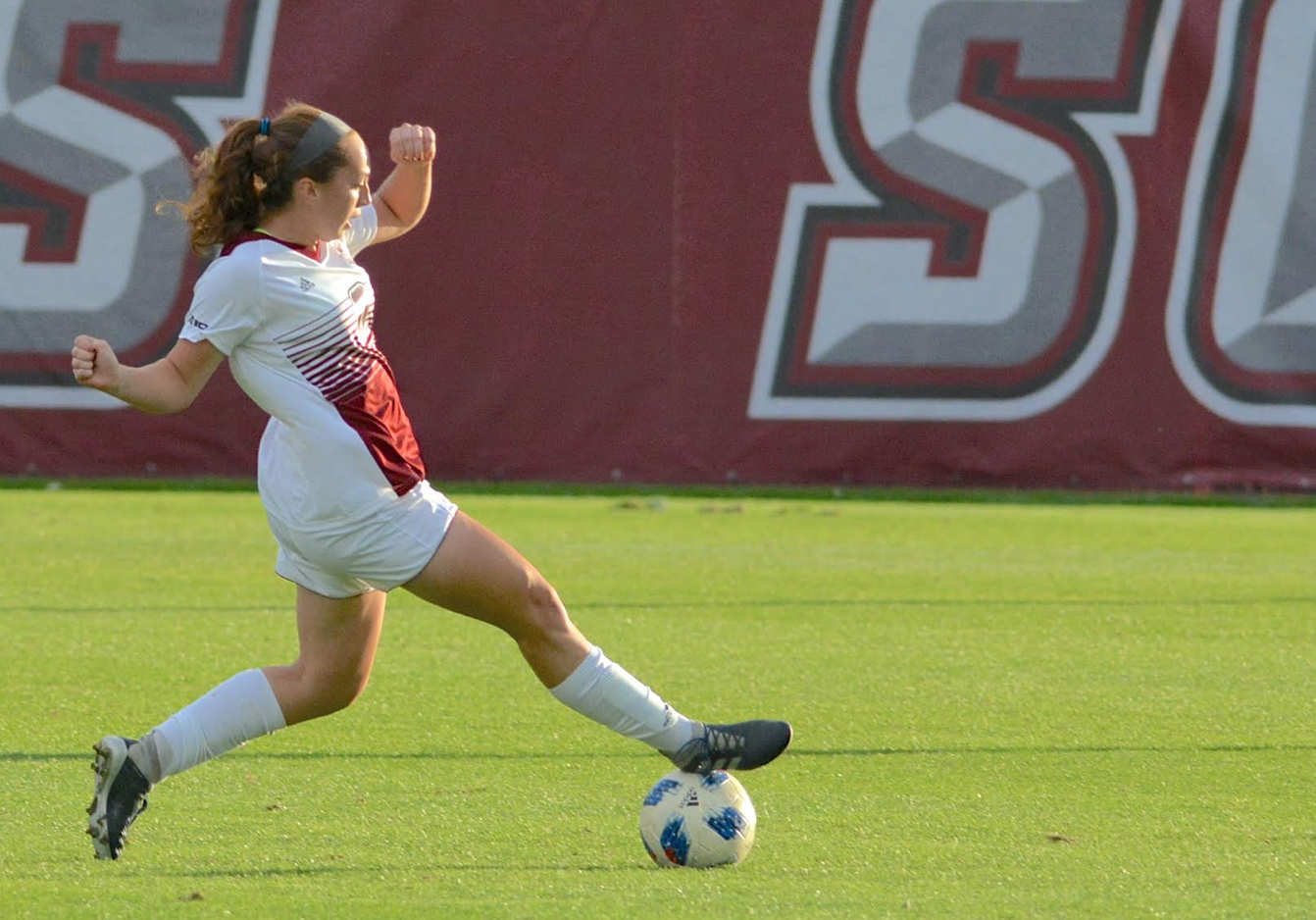 Ari Comendul convereted to a midfielder for her senior season.
---
All Ari Comendul could do was watch.
After her first three seasons on the UMass women's soccer team, she received zero playing time.
"I had a lot of trouble breaking through that starting [goalkeeper] position," said Comendul, who hails from Whitman.
The constant commitment to practice, with no results to show for it, began to take a toll on her.
"Everyone thinks of quitting at one point," said Comendul, who began playing soccer at age 5. "It was hard. It was a grind every day, and no matter how much money you're on, you really question if it's worth it."
Not playing was uncharted territory for Comendul, who, as a senior and the starting goalkeeper, helped lead the Whitman-Hanson Regional High girls' soccer team to the Div. 1 state finals in 2014. But a position change was anything but new to her. She didn't step into goal until the middle of her junior season in high school, when she converted from forward.
"I honestly think we were at halftime, and I think our goalkeeper got hurt and our coach was like, 'Who wants to go in net?'" recalled Comendul. "And for some reason my hand just shot up, and then I went in and I did well."
So, with experience as a goalkeeper and forward stemming from high school, Comendul made the switch to midfielder this past spring in advance of her senior season at UMass. First-year Minutewomen head coach Jason Dowiak was the one who suggested the move.
"Having three goalkeepers, it's tough to share the minutes," Dowiak said. "I knew Ari had a little bit of experience playing the field and we just talked about it really. Weasked her if she was interested in the idea and she was more than interested, she was excited about it."
After playing half the game in the field at first, she received significant minutes in UMass' final spring bout against Holy Cross.
"We were just really light on numbers, and she ended up playing really well," Dowiak said. "She was really productive and grasped a lot of the concepts we had been talking about."
Dowiak said Comedul's position change shone a light on two of her best attributes: unselfishness and leadership.
"She's willing to kind of play whatever rolethe team needed," he said. "I think she set a great tone for the mentality of the 'Do what's best for the team.'" Comendul didn't just make the switch, but she was pretty effective as a field player as well. The biochemistry and molecular biology major played 278 minutes and had a goal and an assist on the season for UMass, which finished 11-6-1, surpassing the 10-win mark for the first time since 2011.
"It's just a cool story," Dowiak said. "You never hear about a goalkeeper changing positions and then becoming really impactful on the field. As a wing player, she made herself dangerous and she made players around her dangerous. She had a really good eye for the final pass. I'd say we missed some really good opportunities that she created."
The goal came in the fifth game of the season Sept. 7 in an 8-0 victory over Chicago State. "It was funny," Comendul said. "It was just awesome."
Comendul said at times she felt like a freshman during the transition.
"My positioning was off a lot of the time, and it kind of just hit me one day that, 'I need to stop trying to become a midfielder and just start being one and adopting the mentality of the position,'" she said.
Dowiak said it was Comendul's intelligence, both on and off the field, that allowed her to succeed in the switch.
"She's an incredibly gifted student," Dowiak said. "She was able to process tactical information and ideas, as well if not better than most."
When all was said and done, Comendul said she's forever thankful she continued stick it out through the difficult times.
"I'm so happy I never quit," she said. "I held that version to the past version of myself that I would stick it out and I did. I'm really grateful I ended on a high note."