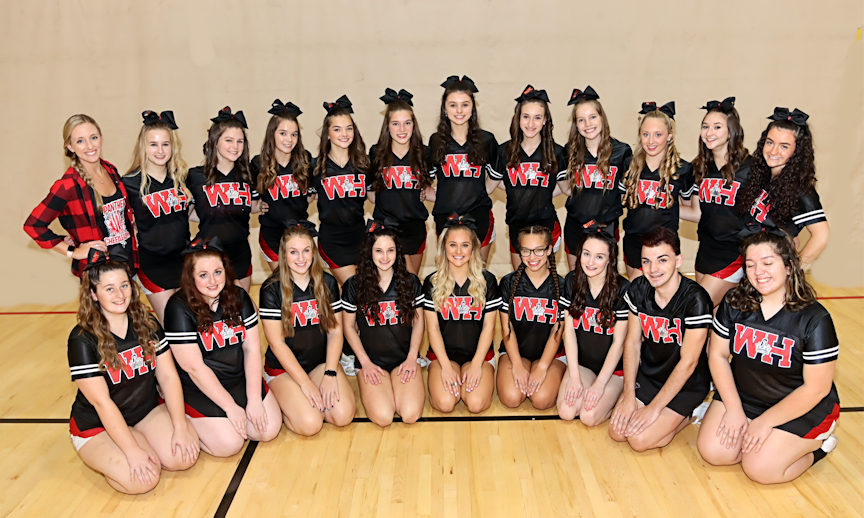 The cheer team is aiming for another state title.
---
For the Whitman-Hanson Regional High cheerleading team, this fall has been a long time coming.
"We've been waiting for this season for what seems like forever," said fourth-year head coach Alyssa Pietrasik. "I am so ecstatic to be back with the team, but more importantly I'm ready to work."
As, too, are the cheerleaders — led by senior captains Jazzy Gomes, Tiffany Joyce and Samantha Sicuranza.
"They each bring unique and different leadership to the team and truly want what is best for the program," Pietrasik said. "They lead by example and are the first three to put in the extra time and effort to make the team successful."
To prepare for this autumn, the team spent the the summer reading the book "Wolfpack" by Abby Wambach, which details new rules for athletes to follow in sports.
"In essence, its the idea of crashing through the glass ceiling of old rules and coming forward as your most authentic and true self to better your team," Pietrasik said. "This season the message is just that. This is a new team and the possibilities are endless. They can achieve any single thing they set their mind to. In a way, our focus is that mindset, the rules and possibilities you create for yourself are more important than anything else."
On the mat, Pietrasik said her team's strength is its stunting.
"It is something I've been working on with them since for the last few years and this year we really seem to have a well-balanced team for it," she said. "Mentally, their strength is in their mindset, they are workers, they want to win, and they want to bring back the legacy that is W-H cheerleading. I'm so excited to see where that drive takes them."
The cheerleaders, who can be spotted cheering on the football team at games, opens their competition season on Saturday, Oct. 23 with the Duxbury Invitational.
"The goal, as always, is to build a team that becomes a family and make lifelong memories as we do it, but this season we also are really gunning for another league and state title," Pietrasik said. "This team has a hunger for it. They are ready to put in the work."