South Shore Vo-Tech gets budget review
HANOVER — The South Shore Regional School Committee held its annual public hearing on the school budget proposal for fiscal year 2017 — a $12,455,356 spending plan — on Wednesday, Jan. 20. That figure represents a 2.91-percent ($352,203) increase over fiscal 2016.
Preliminary information on town assessments will be available after the governor's budget is released Wednesday, Jan. 27. The committee will take a vote on certifying the district budget on Wednesday, Feb. 24.
Finance committee representatives from Whitman and Scituate attended the Jan. 20 hearing.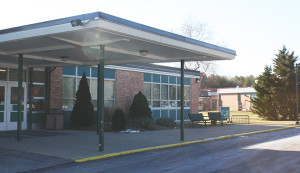 More than 300 applications were received last year for the school's 180 seats in the freshmen Class of 2019, according to Superintendent-Director Dr. Thomas J. Hickey who called it "one of our strongest years on record."
Because of the added students, even if assessment formula remains the same, SSVT will have a bigger foundation budget which should bring in more state aid.
"We build a budget zero-based, of course, so each year there are factors that change," Hickey said.
Within the budget request are:
• $170,000 for capital expenses such as paving, rooftop units, instructional technology and feasibility funds placed in stabilization;
• $175,533 for full-time entrepreneurship and science teachers and a part-time graphics communications position (the latter two now funded by grants) and summer funds for an assistant to the technology director;
• $112,140 for active employee health insurance, a 12-percent increase;
• $1,977,885 — 15.9 percent — of the budget covers health insurance, retirement, debt, unemployment, snow removal and other post-employment benefits (OPEB).
Non-salary budget items are projected to cost less than in fiscal 2016, Hickey said.
"There's not five cents-worth of fluff in here, so if we don't have it we don't get to use it," said committee Chairman Robert Molla. "We don't have the ability to go back [to towns] for an override to get more money and we don't have the ability to go beyond what we have."
The committee also voted Jan. 20 to resubmit a statement of interest letter to the Mass. School Building Authority (MSBA) to fund building renovation work to the heating system in the original   1962 part of the school and adding on for needed space.
"Whether MSBA invites us into their core program, or not, I want to begin to build toward us eventually having to look at the fact that renovations to the building will need to be done," Hickey said. "I am very proud of the fact that we do not need a total overhaul of this building."
In other business, the committee honored Whitman culinary arts senior Connor Christie as Student of the Month and allied health teacher Lynne Ricardo as Staff Member of the Month.
Christie, who plans on attending the Culinary Institute of America next year, was selected "for his overall efforts within the school," said Assistant Principal Mark Aubrey.
"Many teachers spoke about how hard a worker he is, how willing he is to assist others, I personally say he is a self-learner … which is always a good thing in life," Aubrey said. "He seeks out additional work to see how it can apply to skills he has learned … and never hesitates to help a peer who might need additional support."
Christie is also on the management track at McDonalds, a highly competitive industry program, as part of his co-op work.
Ricardo was selected by students during her first year at SSVT on the strength of her inspirational presence in the classroom, according to Principal Margaret Dutch.
"She is very helpful and understanding," one student reported. "She is a good person to talk to and has a great personality."
"She is always there for us when we need her," said another. "She is willing to share her knowledge with us and never fails to put a smile on her students' faces."
"It is very easy to talk to her and have a regular conversation instead of the typical teacher-student conversation about school or homework," another student said.
Dutch also announced an online application for admission to the school has been launched.
"It is posted and we have already started receiving applications from students online," she said. "It allows students and parents to make that decision at home, to answer those questions together — they're not doing it at their middle school where they might be writing down what their friends want … and it brings that information directly to us."