Resident members approved for reuse committee as Hanson plans future for Plymouth County Hospital
HANSON — Selectmen got their wish.
After postponing appointment of the two at-large citizen representatives to the Final Plymouth County Hospital Re-use Committee on Jan. 12 in an effort to attract more applicants, they received four more.
Green Hanson founder and chairman Marianne DiMascio and environmental consultant Philip F. Clemons were appointed from a five-person pool that included original applicant and Community Preservation Commission Chairman Laura FitzGerald-Kemmett. Robert Sutter and town building maintenance employee Brian H. Clemons, both members of the original reuse committee, had also applied. Resident Mark Vess had indicated via email an interest in serving, but selectmen only considered those who had filed applications by Jan. 15.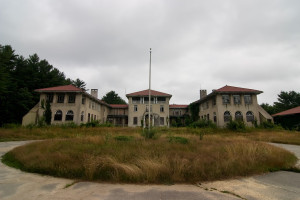 "I am an excellent team member and good at consensus building, facilitating discussions and ensuring that all voices are heard," DiMascio stated in her application. She works in public policy with the American Council for an Energy-Efficient Economy. Phil Clemons noted his experience with regulatory permitting, environmental compliance, facilities planning and management.
They will join Selectman Don Howard, Planning Board designee Don Ellis and a representative from the Zoning Board of Appeals on the PCH committee.
FitzGerald-Kemmett, who was the only applicant attending the meeting, pledged to attend all reuse committee meetings citing the need for CPC involvement with the project. She supported the appointment of DiMascio.
Selectman James McGahan expressed concern that FitzGerald-Kemmett was already spread thin with her other club and committee work. Selectmen Chairman Bruce Young said he would not vote on her nomination — but would not vote against her — noting he backed DiMascio as a new face.
"Laura's tremendously qualified for this committee," Young said.  "The only thing I would say is we have a relatively new person here that wants to get involved … I just would like to see a new face on the committee."
McGahan noted that, in addition to Community Preservation, FitzGerald-Kemmett is also active with the Hanson Business Network, Hanson Kiwanis and Panther Education Trust.
"The only problem I have is the number of committees that [she's] on," McGahan said.
FitzGerald-Kemmett countered that she is "very well aware" of her obligations.
"I think I'm really the best judge of what my ability to take on more would be," she said. "This isn't a lifetime commitment. This has to be done by Town Meeting."
Selectmen encouraged her to attend meetings to bring Community Preservation input to the discussion.
"I think, with Laura's experience with Community Preservation, she would be a valuable asset," Selectman Kenny Mitchell said in support of her appointment.
The Selectmen also approved the Highway Building Committee's selection of Weston and Sampson environmental consultants of Boston to conduct a needs assessment, authorizing Interim Town Administrator Richard LaCamera to sign a contract.
"All four of [the interviewing firms] did a real good job — good presentations — but one particular company kind of knocked it out of the park," Selectmen Bill Scott, who chairs the building committee, said of Weston and Sampson. The firm also came in under budget, bidding $28,000. Town Meeting had appropriated $30,000 for the assessment.
"This company just stood right out," said Mitchell, who also serves on the building committee. He noted that Weston and Sampson does not subcontract services.
In other business, LaCamera reported on progress with the fiscal 2017 budget. Selectmen were provided budget books for review.
The town has $21,826,000 available for appropriation.
The school budgets for both W-H and South Shore Vo-Tech [see related story] had not been received as yet. W-H rolls out its budget Wednesday, Feb. 3.
The Propostion 2 ½ levy limit would bring in an added $437,000 and new growth accounts for $175,000 — down from $373,000 last year — of available revenues. Gov. Charlie Baker is pledging no cuts to local aid, which would mean Hanson could even see an increase of $50,000 over the current $1,371,000.
"It's down significantly from last year," LaCamera said of new growth revenue, because condominiums under construction last year have been completed.
Debt exclusion payments for the new police station ($389,000) and the high school ($347,000) and the first of five payments for school technology ($160,000) must also be calculated into the fiscal 2017 spending plan. Payments for the high school have been reduced by about $20,000 through refinancing and will continue to decline over the remaining 10 years on the bond. The town is also involved in contract negotiations with five unions.
"There is no amount [in the budget] having to do with union negotiations at this point," LaCamera said.