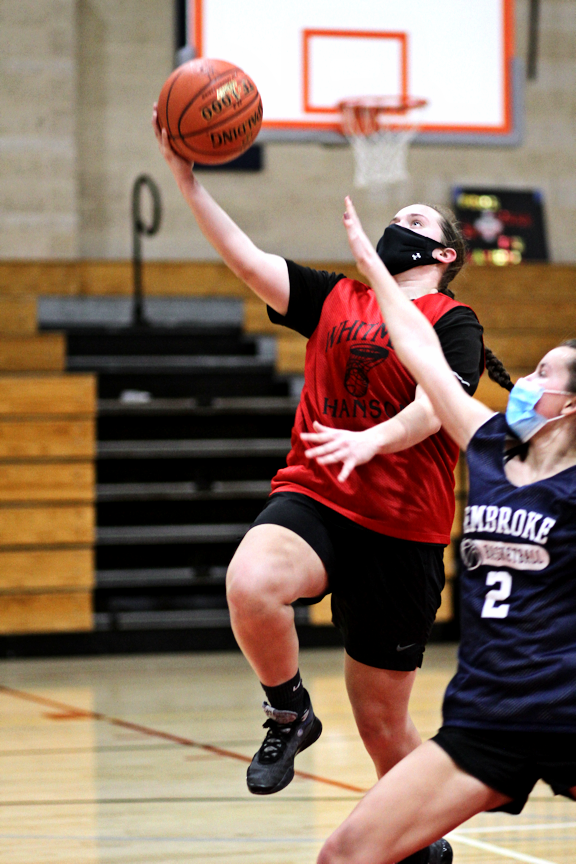 The girls' hoop team is shooting to win the program's first league title since 2010.
---
The Whitman-Hanson Regional High girls' basketball team's mission is clear.
"The priority is to win the league title in the regular season and then the first ever Patriot Cup — be able to compete for that as well," said second-year head coach Mike Costa.
And they know what it's going to take to accomplish that goal.
"We have to win some games against some of the tougher teams in the league," Costa said. "Last year, we let two slip away against Plymouth North, we were able to steal one against Hingham, but we just have to compete and win those games against the upper-echelon teams."
Last year, the Panthers posted a 9-5 mark in Patriot League play, and finished the season with a 15-7 record, highlighted by the program's first tournament win in eight years.
"I hope the success we had last year kind of gives them the confidence knowing they can compete with anyone they step on the floor with," Costa said. "We had a pretty young group last year, so hopefully they can build off that and just walk with that swagger we want them to — knowing they can play with anybody."
W-H returns plenty of talent from last winter's squad, headlined by senior captains Reese Codero and Rylie Harlow, as well as junior Abby Martin.
A Patriot League All-Star last season as the Panthers' starting point guard, Codero averaged 7.1 ppg and dished out a team-high 3.2 apg. Harlow (5.1 ppg last season) and Martin (4.5 ppg last season) also chipped in offensively.
"Outside of Reese, Rylie and Abby Martin, our other two starting spots are kind of up in the air right now," Costa said.
The graduations of 2020-21 Patriot League All-Stars Britany Gacicia and Olivia Martin no doubt leave voids in the lineup. Gacicia led the team in points (11.9), rebounds (7.1), steals (2.5) and blocks, while Martin scored 9.5 ppg and knocked down a team-high 40 attempts from beyond the arc. Costa said it will likely take a team effort to make up for their departures.
"I think this is a year for Lauren Dunn to hopefully step up and provide some of her shooting we're gonna miss with getting rid of Liv," Costa said. "Anna Stone was kind of under the radar last year, but she's worked her butt off and I think she could provide some toughness and rebounding that we lose with Brittany."
Costa said W-H will lean on its defense and shot-making this season.
"We feel like if we can hold teams to 40, we should be able to score more than 40 points a game," he said. "And hopefully we can score the ball a little more. I feel like shooting is going to be a strength of ours."
The Panthers have already had their first three games postponed due to COVID-19 precautions, and Costa said it's important to just roll with the punches.
"There's just so much unknown this season, we're literally just playing one game as its own thing," he said. "If something changes where we miss a game, it sucks, but we gotta refocus and onto the next one. That has to be our mentality as we move through this thing."
W-H is now scheduled to open its season Wednesday, Jan. 20 at home against Silver Lake at 5:15 p.m.
"Even though the game might look a little bit different and the season might look a little bit different, the goal is still the same," Costa said. "We're still trying to compete for a league championship and prepare our seniors, Reese and Rylie, for college next year. We're trying to get the most out of them and squeeze the sponge for them and at the same time continuing to build toward a league title.
"The league is wide open. But nothing is going to be given to us, everything is earned and we're just going to take it one game at a time."