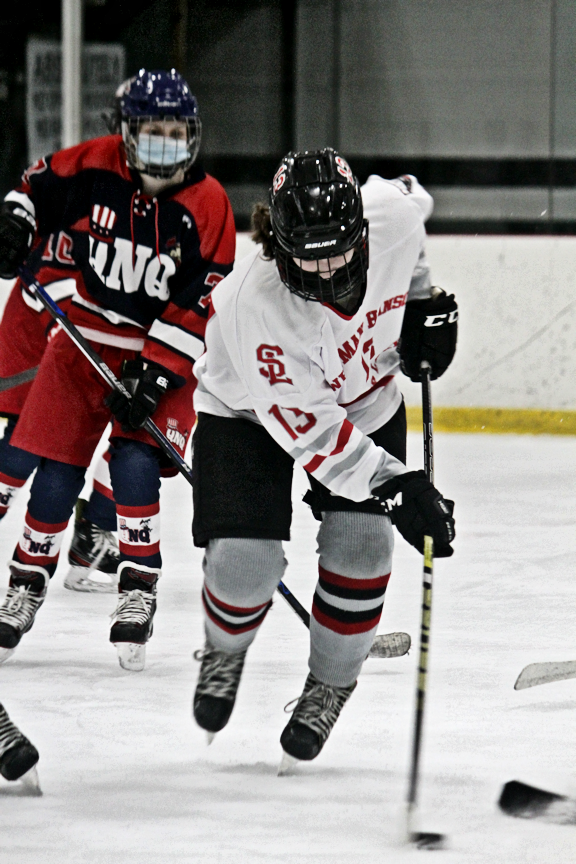 The girls' hockey team is hoping to keep the momentum going from last season.
---
For the Whitman-Hanson/Silver Lake girls' high school hockey team, it all starts with confidence — just look at last season.
After opening the year 0-4, WSHL won 11 of its last 16 games to earn its first tournament berth in three years. Head coach Kevin Marani hopes that success carries into this season.
"It's just hard work and believing in yourself," said Marani, who enters his sixth year on the co-op's bench. "They just needed to believe they could win and it's contagious. They truly believe they're a good team."
The Panthers return two-thirds of their top line in senior captain Emily McDonald (Whitman) and sophomore Shea Kelleher (Kingston).
McDonald, who enters her second year as captain, potted nine goals last season.
"She is just a great kid to coach, great leader and has great talent," Marani said of McDonald. "Her leadership and what she brings to the defensive side of the ice, as well as her offensive skill — she is one of our best players. If I had 15 of her, we'd be state champs, for sure."
Kelleher found the back of the net 13 times and dished out 14 assists in her freshman campaign.
"Shea Kelleher is probably our best all-around player," Marani said. "She is just good at everything. She is great offensively, she is fast, she has great hands and she has a really good shot."
Alyssa Murphy also has a really good shot — one the Panthers wish they still had following her graduation. Murphy scored a team-high 31 goals last season.
"I've pretty much challenged every girl, if every girl can get three more goals we can at least make up for what we lost from Murph," Marani said.
Junior Lily Ulvila (Kingston) will replace Murphy on the top line.
As for the other end of the ice, senior captain Caleigh Tompkins (Kingston), sophomore Kira Peterson (Kingston) and seniors Neve Corkery (Kingston) and Molly Duff (Kingston) are all back in the fold. Marani said he believes incoming freshmen Jocelyn Moore (Kingston) and Caitlin Dilley (Kingston) can play regularly, as well.
"We have six really good defensemen,"Marani said. "I expect really big things from her and our defense."
Marani also expects really big things from senior Kat Gilbert (Halifax), who is back for her third season in net.
"She's put in the work," Marani said. "She is totally focused and when she's totally focused, she's one of the better goalies in the league."
WHSL is scheduled to be back in action Wednesday, Jan. 20 at 7 p.m. against East Bridgewater at Rockland Ice Rink.
"I just want to see their confidence, they're good," Marani said. "I just believe that if they believe and they have the same focus as they did at the end of last year we're gonna be fine and we'll win our fair share of games and we'll be a tough out come Patriot League playoffs. All the hard work they put in will come to fruition right now."