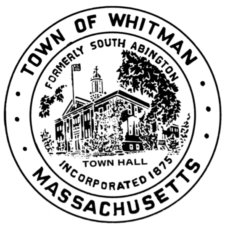 WHITMAN — When the Board of Selectmen and Finance Committee meet again in joint session on Tuesday, April 9, they will be discussing a "what-if" budget scenario in which the W-H school assessment would increase by 4 percent and other departments — while making cuts — would skirt layoffs. The School Committee approved a 15-percent assessment increase last month.
The school budget in Whitman would still be $500,000 higher than fiscal 2019 Selectmen Chairman Dr. Carl Kowalski noted.
"It's not what they say they need," Kowalski said. "But at this stage of the game, there's nothing we can do as a town to satisfy [that need]."
Town Administrator Frank Lynam said the proposal, drafted during a meeting between town department heads, Kowalski and vice chair Dan Salvucci Tuesday, April 2, is aimed at creating a budget worksheet — and should not be considered a budget projection.
"The casualty in this budget, if you can call it that, is the request for W-H vs. what we proposed to fund," he said. "But, in this scenario, every other department goes back to 2019 and subtracts from it, rather than adding to it. Of all the options we've looked at, this is the one that I'd like to bring to the Finance Committee."
That worksheet, if adopted as a budget, would hinge on getting the current bond debt approved as a debt exclusion, which could free up $1 million, according to Lynam. He also expects to have the first draft of a capital plan completed by the end of April and a final plan by late summer.
Resident Shawn Kain asked if there was a timeline for a financial policy and strategic plan. Lynam replied that the financial policy is part of the capital plan process, but the strategic plan has not yet begun.
"I feel like this stuff is important and timelines are becoming really urgent," Kain said. "I think having them implemented sooner, rather than later, would be very helpful to people at home — or for you, even — to decide whether an override or a debt exclusion would be appropriate."
Kain and Selectman Randy LaMattina questioned the transparency of the department head meeting with members of the Board of Selectmen.
Kowalski countered that it was a strategy session and to call it a closed-door meeting was "insulting."'
LaMattina, who said he agreed with a large portion of the "what if" scenario, said there was also a large risk of almost $1 million in capital funds.
"I don't view it as a great success," LaMattina said, asking for the board's liaison from the Finance Committee David Codero step into the meeting. "We have an Article 2 coming out every other week. … If I don't know what's going on, how is the public to know what's going on?"
Lynam countered that the Finance Committee has not prepared any of the budgets yet, but when the Finance Committee voted to set the school budget at 4 percent and reset the other numbers, they asked him to adjust the budget accordingly.
"We made no vote to recommend," Codero said when he got to the Selectmen's meeting. "We made a vote to discuss."
Codero said the Finance Committee voted to place a dollar value on the school budget to act as a place-holder in the budget as a whole.
Lynam said that was the information with which he worked.
"The results were very close to a scenario I had been working on," Lynam said of the work done at the meeting Kowalski and Salvucci had with department heads. "Their recommendation is based on their belief that the likelihood of getting both an override and a debt exclusion did not hold a lot of hope."
The schools were not represented at the meeting and Kowalski and Salvucci attended at the request of department heads, Lynam said.
"Over the last week, I've been working on a number of scenarios, taking different budget approaches with cuts identified by departments and reductions identified by the size of the budget's ability to withstand the cuts," Lynam said noting he met with the Finance Committee Tuesday, March 26 and they requested the change to a 4-percent increase for the school district.
Salvucci and Kowalski lauded the budget meeting with department heads.
"I think they did a great job of coming together as town employees working for the town, doing the job that was really good," Salvucci said. "They know exactly where budgets should be cut that will not effect the operation — or have as little effect on their operation as possible. … They showed us another way apart from cutting staff."
Kowalski agreed, noting that pro-school and pro-town department Selectmen were invited to the meeting.
"What pleased me about the meeting was, in working with Frank over the last week in different scenarios, one of his scenarios looked almost exactly like what the department heads came up with," Kowalski said. "Every department accepts the responsibility for wage increases by having to cut in other areas of the department."
Selectman Brian Bezanson said the discussion pointed to the need for a pre-Town Meeting informational meeting, which Lynam said could be slated for Saturday, April 13.
Lynam took the budget bottom line of $32,880,556 and added payment obligations of $34,280,000. The estimated available levy is $33,972,338 leaving a "small shortfall." Free cash would be used to fund most of the capital articles on the Town Meeting warrant leaving a net available cash position of $583,000. He said he stopped at that point because "I don't think it would make sense to vote a budget that leaves us no available funds for other issues."
LaMattina said that, before he voted to support a budget, a policy should be adopted requiring that at least a percentage of free cash be guaranteed for capital spending.
"That's how we will develop a capital plan," he said. Lynam said that was a good idea.
Lynam said the problem is that the first 29 articles in the draft warrant are articles that can be funded both through the levy and other revenue sources, including the ambulance fund ($456,402), police fine account ($29,664), sewer/water enterprise fund ($918,100), the Title 5 ($7,352) revenue account that pays for septic loans the town has issued and the Chapter 90 ($388,036) funds.
For seven of the articles the town has to raise $545,120. Articles 30 through 46 would cost and additional $973,947.
Lynam suggested adjourning the Town Meeting after Article 29 and resuming at a date after the annual election so officials would know if the money was available to appropriate for the remaining requests or to prioritize which of them the town can afford.
"If this proposed budget were adopted, and if we took no other action to increase our revenue, we would not have enough money to fund those additional articles," Lynam said. "The issue here is sustainability. We need to reach a point where we can fund, and continue to fund, the ongoing operations of the town."