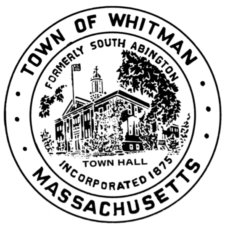 WHITMAN — Voters in a lengthy Town Meeting Monday night approved the $33.4 million fiscal 2020 budget following nearly 90 minutes of deliberation on various line items — with concern centering on town administrative salaries and school budgets.
The session adjourned after voting to pass over Article 29, regarding the amended W-H Regional School District Regional Agreement — due to concern over how Chapter 70 funds would be allocated — with 29 more to be addressed when Town Meeting reconvenes at 7:30 p.m., Monday, June 17 after voters cast ballots on a debt exclusion to fund those articles at the Saturday, May 18 annual Town Election. Town Meeting convened nearly 20 minutes behind schedule, due to the time needed to check in the 369 voters who attended.
Zeroing-out?
Lazel Street resident Marshall Ottina started the budget debate with a request to amend the town administrator salary line to $1, which ultimatelty failed.
The Finance Committee had recommended a $129,000 salary for Town Administrator Frank Lynam, to send a message about what Ottina termed a failure to adequately prepare solutions to Whitman's financial problems. Lynam's fiscal 2019 salary is $126,900 and he earned $122,000 in fiscal 2018.
"A year full of negligence and broken promises have brought the town of Whitman to where we are today," Ottina said. "At Town Meeting last year, and the lead-up to it, the messaging from our town administrator, Board of Selectmen and Finance Committee indicated we were heading to a financial crisis … We face tonight, a year later, departmental budget cuts across the board."
He also noted that W-H schools, while seeing a budget increase, is still experiencing cuts that will reduce services next year and is losing 19 employees, along with cuts to DPW, public safety and library — among other departments.
"We were told [last year] that an operational override was how we could make these departments whole again," Ottina said. "And then they sat. Where is our plan for the override?"
Ottina said the money itself is not the problem, he does see the salary as a "failed investment on our part," charging that Lynam has "offered us less and less" for the salary increases he has received.
Forest Street resident Shawn Kain, however, disagreed with
Ottina's amendment despite his own long-standing budget disagreements with Lynam.
"I believe that [this] is one of the most important items in the budget," Kain said. "The town administrator plays a critical role in the budget process. The position should be paid for — for the well-being of the community very much depends upon this individual."
Kain said it is obvious the community is in a precarious situation and financial crisis, missing "essential best practices to protect us,"
"I thought about this long and hard," Kain said about the salary issue. "Should we take aggressive action, zero out this line and make demands of the Board of Selectmen? … I don't think we should and here's why — the solution to this problem is very complex and will demand cooperation and strategy where there are  logistical differences in plans and policy. It needs to be thorough if it's going to be done right. It cannot be done by force, it must be willfully chosen by all parties involved, but especially by the town administrator."
He advocated putting partisan and aggressive politics aside and directly asked Lynam to shoulder the burden and meet the community's demanding expectations. While noting the large turnout, Kain also recognized the recent tension in the community.
"If you are sitting in this hall, though, you have my respect," Kain said. "Apathy and a lack of civic engagement is the true enemy. It's an honor to be here tonight."
Lynam responded that, while he "doesn't make a habit of talking about my position or my salary," the pointed comments prompted him to do so. He said there are things pending to help the town move forward, including last year's contracting of the Collins Center at UMass, Boston to conduct a capital study and a budget analysis to enable a more thorough and supportable budget could be presented to the town. A draft that had been presented to him on May 1 had to be returned because some basic information was missing, Lynam said.
"If you're unhappy with my performance, talk to the people who hired me, the Board of Selectmen, but you don't zero-out a line, you don't eliminate the possibility of having someone work — that's just foolish," he said.
While the salary amendment failed by 257 against to 82 in favor, but the $128,169 salary recommendation also failed 196 against to 156 in favor, until a resident on the prevailing side moved for a reconsideration, which passed by a vote of 259 in favor to 95 against.
Town Clerk Dawn Varley said final vote totals will not be released until after Town Meeting business concludes on June 17.
"I understand, as much as anyone, what's going on," said Animal Control Officer Laura Howe, noting that as a part-time employee with no benefits she practically pays the town to work for it. "I have never seen our town so divided in my entire 52 years of life. I am truly saddened and disheartened that we would discuss [zeroing out the salary line]. … Everyone who works for this town is a good person and I don't know when we started picking up pitchforks and flames. … This man is a good man."
After the meeting, Lynam said he was not surprised by the attempt to reduce his salary so drastically.
"I know that there was a small group of people who were discussing that," he said. "It's really the wrong way to do things. If you're not happy about the way something's done you advocate for change, you don't throw the baby out with the bathwater."
Pay cuts
Finance Committee Chairman Richard Anderson and Fire Chief Timothy Grenno explained that, while union employees are receiving higher pay raises, administrators agreed to take a cut to an increase of only 1 percent to help the town save money.
"All of the department heads voted, because of the situation of the town, we'd take a 1-percent [raise]," Grenno said.
Because of the budget situation, a line item to fund a planned administrative deputy chief at the Fire Department was withdrawn as well, saving the town the planned $130,000 salary.
"There was a lot of discussion," Anderson agreed. "The discussions were about reining in salaries and this Finance Committee is committed to making sure we make every effort to rein-in salaries. What we propose … is we are hoping that this 1-percent raise is the beginning of other departments and other collective bargaining units to consider reining in future salaries. This is something that the Finance Committee is wholly committed to."
After Lynam's salary was passed, challenges to several other administrative and non-union clerical salaries were set aside and those line items were passed.