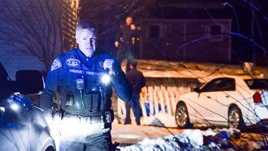 ---
HANSON — Three Braintree men are being charged in connection with the armed break-in of a Hanson house Saturday night, March 24.
A Hanson resident was able to call 911 with help from neighbors after he fled his home Saturday night on Adams Circle while two masked men smashed their way in.
Christian Paiva, 19, and Christopher Paiva, 22, were taken into custody in the immediate area of the home. Giovanni Rodrigues, 23, fled on foot and was taken into custody on State Street. All three are from Braintree, said Hanson Police Chief Michael Miksch in a press release.
The three have been charged with breaking and entering while armed, malicious destruction of property over $250, and larceny over $250.   Hanson Police later recovered property taken from the home on Sunday.
The homeowner, who was not identified by police,  was not physically harmed. Police were seen photographing the lower level entry of a ranch style home Saturday at around 8 p.m. A K9 handler and State Police were also seen combing the wooded area by the dwelling.
Hanover Police Officers and the Plymouth County Sheriff's Department BCI Unit also assisted in apprehending the three. Rodrigues was found to be carrying a knife when he was taken into custody on State Street by Hanover Police and Sheriff's Department officials.
"Hanson Police Department would like to thank the many witnesses who called in to assist us in locating the third individual," said Miksch. "We would also like to thank the Hanover Police and Plymouth County Sheriff's Department for their assistance."
Hanson Officers investigating the case were Officers Billy Frazier, Jared Meegan, Christopher Dominguez, and Ben Ford. Detective Paul O'Brien, Sgt. Gene Andrews, and Lt. Michael Casey also assisted.
The three suspects were slated to be arraigned in district court today [March 26].
According to police, the break-in is not a random incident as the victim apparently knew one of the suspects.