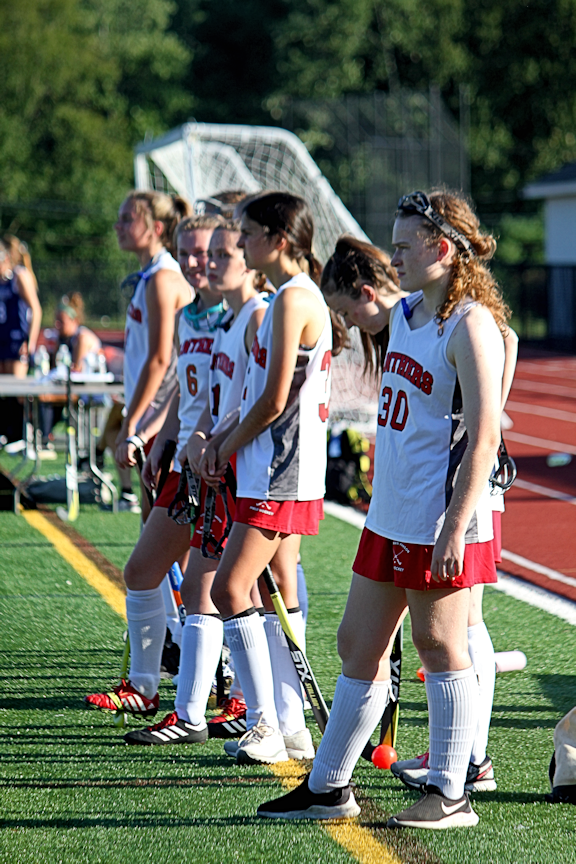 The field hockey team is shooting to make the tournament.
---
Olivia Phelps, Lauren Dunn, Joli Flamos, Mary Kate Ryan, Rosie MacKinnon and Paige Cosgrove are all back for the Whitman-Hanson Regional High field hockey team
So why not set the bar high this fall?
Phelps and Ryan, are two former Patriot League All-Stars and team MVPs, Dunn has established a knack for finding the back of the net, MacKinnon is a force on defense and Cosgrove, a sophomore, is already a first-liner.
"We would like to make the tournament," said Todd Humphrey, who is in his ninth year coaching the Panthers.
Phelps, a senior captain, scored a team-high six goals and was named the Panthers' MVP last season. Dunn, also a senior, added four goals and two assists.
"[They] are quite the tandem," Humphrey said of his forwards. "[They're] super fast and always looking for each other on the field."
The sophomore Cosgrove joins them on the top line at forward this season.
"She has great skills for her age," Humphrey said. "A true playmaker. A good passer and shooter."
Ryan, a senior captain, and Flamos, also a senior, are back at midfield. They're two of 17 seniors on the roster.
"[Ryan] has always been excellent at reading offenses and creating turnovers," Humphrey said. "Joli has always been a great two-way player and we expect to see that again this season from her."
Seniors Ashley Sawtelle and MacKinnon, a captain, will anchor the defense in front of first-year goalie, junior Reagan Heath.
"Ashley was voted by her teammates as the most improved player last season," Humphrey said. "Rosie is strong, fast, agile and mentally tough."
This is Heath's first year on varsity.
"She is quick, has good lateral movement and she has a good directional kick," Humphrey said.
The head coach added he'd like to see his team, which finished 2-9-1 last season, turn the ball over less this autumn.
"We have the talent to move the ball up the field and create offensive opportunities.," Humphrey said. "We need to be mindful of maintaining ball possession."
The Panthers, who are hoping to build off last season's 1–0 Patriot Cup win over Marshfield, are back in action Friday, Sept. 17 at 3:30 p.m. on the road at West Bridgewater.
"We had our first playoff win last year," Humphrey said. "We would like to make the tournament and see where that takes us."