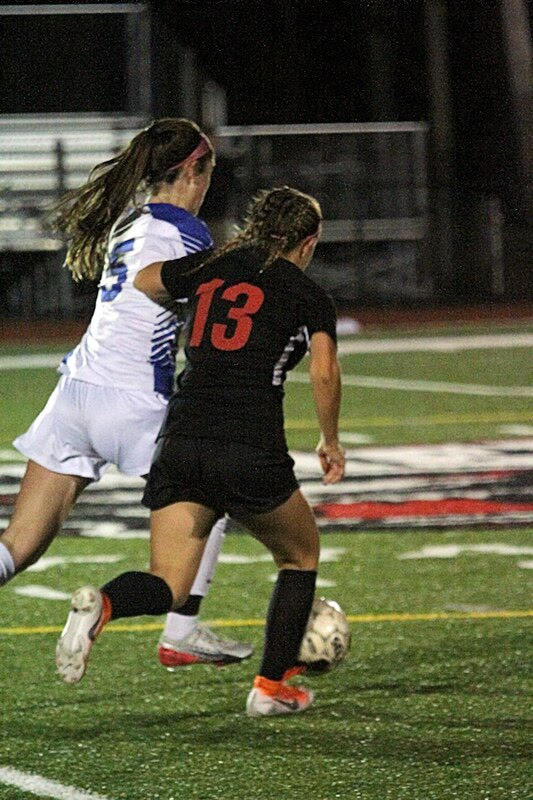 Alexis Billings scored the winner to send the Whitman-Hanson Regional High girls' soccer team past Norwell, 2-1.
---
Often what Whitman-Hanson Regional High girls' soccer junior Alexis Billings does on the soccer field doesn't show up on the stat sheet.
Well, on Wednesday, Oct. 23, it did.
With roughly 14 minutes remaining, she gathered the ball at the top of the penalty box and fired a shot into the left corner of the net, to send the Panthers past Norwell, 2-1.
"It felt so good," Billings said. "I was so happy. I hugged all of my teammates as hard as I could."
Billings was also tasked with marking Norwell's top player, Wake Forest-bound senior Kristi Vierra, and Billings held her off the scoreboard.
"She's not tallest player on the field," W-H head coach David Floeck said of Billings. "But she plays a lot taller than she is. She does a lot of dirty work as well. It was nice to see her rewarded."
"[Vierra] is amazing," Billings said. "I play club soccer with her so I know how she is. She's definitely a threat on the field."
The Clippers struck first, getting on the board about 15 minutes in.
The Panthers responded before the half, when sophomore Nora Manning took a cross from classmate Olivia Borgen and sent it in the back of the net, tying it at 1-1.
"We're resilient," Floeck said. "We don't like to fall behind but the team has shown a propensity to come back."
The Panthers now await their opponent in the playoffs.
"Norwell's a good team," Floeck said. "They're getting ready for the tournament and so are we. We're both getting ready before the tournament starts."