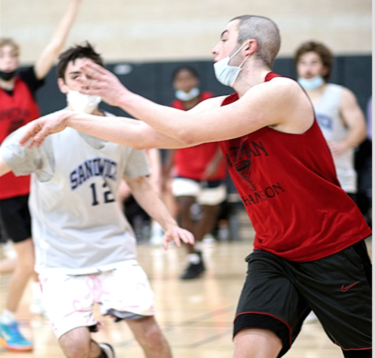 After a bout with cancer over the offseason, Whitman-Hanson Regional High boys' basketball senior captain Ryan Vallancourt is grateful to be back on the court.
---
Ryan Vallancourt was going up for a routine layup during a summer league game this past July when life took an unexpected turn for the Whitman-Hanson Regional High boys' basketball captain.
"I just felt, not like a shock, but a tingle throughout my body," Vallancourt explained. "It was right in my balls, so I was like, 'What the hell?'"
He felt a lump in the area the next day, so he texted his mom, who works in the emergency room at South Shore Hospital. He went down for an ultrasound and blood work. The next stop was Boston Children's Hospital later that night for the results.
"I had testicular cancer," Vallancourt said. "I was shocked and I was scared, for sure. You never think it's going to be you at 18. That became a bigger than basketball moment for me. I just remember the guy told me and I remember leaning my head back like, 'You've got to be kidding me.' I kind of broke down from there. It was a tough night for sure."
For Vallancourt, life went from perfect to unknown in an instance.
"Thirty five-game winning streak, at that point, best team in the state, only captain of the team, your life is going great right into college admissions time, you're feeling good and then the next thing you know you're a cancer patient at Dana-Farber," said Vallancourt, Patriot League All-Star last season.
He underwent surgery the following Monday. Then in September he began chemotherapy, which lasted until mid-October.
"That was tough — I'm not gonna lie," Vallancourt said. "It was pretty intense chemo. I was on like three different kinds, I missed almost like the first month of senior year, which was tough for sure."
Despite bouncing in and out of the hospital, Vallancourt wasn't about to be kept off the court. After all, it was the only place he could find peace and solace from the rigorous grind of chemotherapy.
"I was playing on the weekends during our AAU tournaments and that meant the world to me," he said. "I just wanted to be with the guys. But honestly, the nights just being at the high school getting shots up in an empty gym was the best therapy I could have had, honestly. Just knowing I was going to get through it and keep that positive mindset. I would just say being in the gym made me forget about everything, honestly."
LEADING BY EXAMPLE
W-H boys' basketball head coach Bob Rodgers was in constant contact with his captain throughout the process. Rodgers said the conversations shed even more of a light on Vallancourt's character and leadership off the court.
"He would be texting me in the middle of his chemotherapy telling me how bad he felt for the little kids he saw going through it," Rodgers said. "In my mind I'm thinking, 'Wow, this kid is battling it himself and what he's caring about the most is what he's seeing other people do.' It just says a lot about who he is and that he thinks about others first — and that's what makes him a special leader."
Not only did he feel bad for the children going through chemotherapy, but he took action. During the football season this past fall, Vallancourt organized a pediatric cancer night fundraiser. He and a few of his teammates helped raise $750 to buy gifts and essentials for the children at Dana-Farber Cancer Institute.
"Seeing all those kids in there, I wanted to do something that would raise awareness and make other people get checked and be more cautious about it," Vallancourt said. "That night (fundraiser) really meant a lot to me."
BACK TO BASKETBALL
Vallancourt has that same unselfish mindset on the court.
"If you watch him in practice, he is trying to make everyone around him better," Rodgers said. "He spends so much of his time trying to make them better and so much of his time trying to make our team better."
Vallancourt's teammates agree.
"Ryan's leadership is a special thing," said junior Cole Champingie, one of eight first-year varsity players under Vallancourt's watch this season. "He really helped me coming up this past year. I had no confidence in my game and felt out of place, but he boosted my spirits all the way up through tryouts and pushed me to get better in every workout we did and every practice."
Vallancourt has also helped first-year varsity player, sophomore Evan Yakavonis, expand his game.
"I would say Ryan is a terrific leader," Yakavonis said. "I have learned so much from him on the court and off the court. He has helped me become a better defender by instructing me on what I could do better and showing me how to do it."
Vallancourt's work ethic is what rubbed off the most on sophomore Cian ÓBroin , also in his first year on varsity.
"He's helped me get better as a player because looking at how much work he puts in on and off the court it shows what I need to strive for," ÓBroin said. "Sometimes when I was in the gym getting a workout in I would see Ryan come in and do simple shooting drills, all while doing chemotherapy, just to continue working."
Now cancer-free, Vallancourt has developed a new perspective on basketball following his recent bout.
"It has made me appreciate the time I have on the court and go that much harder," Vallancourt said. "Just going to practice, like a Wednesday night practice, some kids may be like, 'Ah, I got practice.' But for me, you never know when it's going to be your last day on the court. It could have been for me if I didn't get it checked out."
So far this season, Vallancourt has picked up where he left off last winter (scored 16 points in the Patriot Cup final against Hingham). He pumped in double-digits in six of the Panthers' first seven games — in which they're 5-2 — highlighted by a 25-point outing on Tuesday against Hanover, a 19-point outburst against Cypress Creek (Florida) and a 15-point performance against Silver Lake. He and the Panthers are scheduled to be back in action Friday, Jan. 14 at 6:30 p.m. on the road against Marshfield.
"This season means the world to me," Vallancourt said. "I've been looking forward to this my whole life — going to the camps when I was younger and working my way up from junior varsity to a lower varsity guy and to now here."