South Shore Vo-Tech to keep MCAS…for 2016 anyway
HANOVER — As it now stands, South Shore Vo-Tech will again administer the MCAS test as planned in the spring while the Department of Elementary and Secondary Education irons out details of an MCAS/PARCC hybrid exam as the new state standard.
Superintendent-Director Dr. Thomas J. Hickey updated School Committee members on the issue during the Wednesday, Nov. 18 School Committee meeting.
"My gut is why would we change midstream," he said.
More than half of state school districts administered the PARCC test in spring 2015, while SSVT conducted a pilot PARCC test but administered MCAS.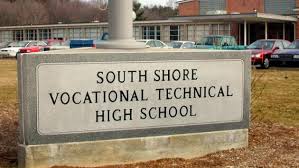 "In 2016, the test will be MCAS with a sprinkling of PARCC-like questions," Hickey said. "In 2017, the expectation is that the hybrid test would be real for everybody, but everyone would be held harmless."
By 2019 all testing is expected to be online.
"Let's just take one year at a time," said Hickey, adding he needed to obtain more information on the district's options for 2016. "As it stands here, the curriculum is what it is. Our math and English departments are perfectly comfortable with the curriculum that they've been teaching and they continue to get our kids ready. I have absolute confidence that they will continue to do so."
He stressed, however, that SSVT must prepare for any future changes.
Whitman representative Dan Salvucci, meanwhile, said delegates to the recent Massachusetts Association of School Committees conference voiced general opposition to standardized testing.
"They feel you need to look at [students'] entire educational experience … and not just if he passes a final exam or MCAS," Salvucci said. "I had to agree with them, but you also need to be able to test students."
Scituate representative John Manning said alternatives to standardized tests could be an area where vocational schools have an advantage.
"We have people out in the trades telling us what our students need to know," he said.
In other business, Kyle Thompson of Hanson, a senior culinary student and football team quarterback, was named Student of the Month for November.
"Every month we introduce different facets of leadership and success," said Guidance Director Michael Janicki. "Kyle's nomination came about a s a result of his leadership on the football field."
Thompson leaves everything out on field and is a role model for his teammates, football coaches reported in their nomination. He is planning to attend college — most likely at Bridgewater State University — where he plans to pursue a degree in teaching or business.
November's Staff Member of the Month is science teacher Jeremy Shaw. He was not able to attend the Nov. 18 School Committee meeting, but will be recognized next month along with the December honoree.
According to Principal Margaret Dutch, Shaw has been teaching at SSVT since September 2013 has degrees in electrical and computer engineering from WPI and Tufts University.
He has "excited an engineering curiosity" in SSVT students while developing a comprehensive engineering program at the school, according to Dutch. He is also a physics teacher, a senior class advisor and helps out with the cross-country team.
"Mr. Shaw is a good person," read one student's nomination. "He is always there to help and is an amazing teacher."
Molla said he asked that the presentation be made despite Shaw's scheduling conflict as a demonstration of the committee's commitment to honoring a staff member in the month they are chosen.
"The committee takes this quite seriously," Chairman Robert Molla said.
"He was thrilled to have it and thrilled to know that it came from the students," Dutch said.
School Committee members and school staff alike expressed great satisfaction with the Nov. 14 open house.
"Over the last couple of years we've done a couple tweaks of where things are and how we present the school and departments — and we nailed it," Janicki said. He added that feedback regarding students who attended and their families was universally positive as well.
The school also received good news regarding work students have performed as Habitat for Humanity volunteers, doing electrical work on two house projects on Center Street in Hanover. Habitat is now seeking additional help from SSVT students and teachers for a project in Duxbury.
"Although Duxbury is not in the district, I feel this is an excellent opportunity," said Hickey. "It comes recommended from the staff."
Senior students would be working on it only for a couple of shop week cycles into December, returning in the spring to do some finish work, according to Hickey.