Hanson Selectmen review employee policies
The Board of Selectmen are reviewing updated town policies regarding employee benefits and conduct.
Policies pertaining to domestic violence leave, the Family Medical Leave Act, information technology use, HIPPA practices, social media and municipal vehicle use are being studied. Some are out of date and others, such as the social media policy — which has been urged by Selectman James McGahan — and the vehicle use policy are new.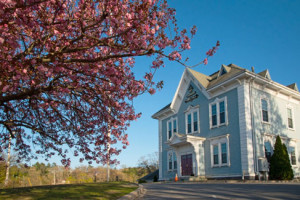 McGahan said he would be looking at LaCamera's social media policy draft in comparison with what other towns are doing.
"In looking at some of the town policies that we have, and some that we're lacking that we should have, what I've tried to do is take the ones that really need to be addressed as soon as possible," said interim Town Administrator Richard LaCamera at the Tuesday, Dec. 8 meeting. He will be meeting with town department heads next week to obtain their input.
"I'd like the board to look at these policies and see if [you] have any suggestions for changes or recommendations to improve these policies," LaCamera said. "Sometime in the first part of January, we'll take all of this input and revise the policies and hopefully, the board will vote on these policies so they can be implemented."
LaCamera noted employees are supposed to receive copies of the policies every year, sign an acknowledgement that they received them and have read them.
Town Counsel will also review them, especially new policies or those affecting union contracts.
"It's better to get them wrapped up now," said Selectmen Kenny Mitchell.
Selectmen Chairman Bruce Young also commented on the complaint policy, which calls for complaints to be filed with the board or commission in charge of the person the complaint involves.
"The town administrator should explain the procedures in dealing with a complaint as mandated under the Open Meeting Law," Young said, particularly if an executive session is in order. "I think that can eliminate potential Open Meeting Law complaints. I just happened to think of that in [light] of recent events."
One Open Meeting Law complaint— stemming from an incident at Hanson Day last June — has been accepted for review by the Attorney General's office. He noted three or four OML complaints had been filed regarding town government, but only the one had been accepted for review.
"I want to make it clear that I'm not trying to discourage or encourage anyone to file an Open Meeting Law complaint," Young said. "But keep in mind it's serious business, because every elected board or commission is responsible for complying with the Open Meeting Law."
He noted there is a misunderstanding of what constitutes a violation.
If a quorum of members on any board attend a public meeting, it does not automatically constitute a violation of the Open Meeting Law. They may do so provided they communicate only by open participation.
"They may not deliberate at such meetings," he said.
One-on-one conversations outside posted meetings are permitted so long as they don't become "chain letter" conversations with other board members.
McGahan added it is important in filing Open Meeting Law complaints to know exactly what the breach was to avoid frivolous complaints.
"It could basically tarnish your reputation," Young said. "That complaint is out there … and it may or may not be true. It becomes a public record and stays a public record."
Tree warden
In other business, the board voted 4-0-1 to appoint David Hanlon of 5 Arthur St., as tree warden, filling a vacancy until the annual Town Election in May. Mitchell, who works for Newcomb Tree Service, abstained. Michael Means of 342 South St. had also applied.
Selectmen agreed both were clearly qualified for the position and encouraged both to run for the office in May.
Both Hanlon and Means work with the Highway Department. Hanlon is an 18-year veteran, citing familiarization with MGL sections 41 and 87, which govern tree warden responsibilities. Means is also a call firefighter/EMT as well as a senior heavy equipment operator at the Highway Department.
"The priority of tree warden, number one is public safety," Hanlon said, who noted dealing with utility companies is also important.
Means agreed that public safety is paramount. Both have limited experience with grant writing, but Hanlon has retail budgeting experience and has worked with Highway Surveyor Bob Brown on budgeting. Means said he has little municipal budgeting experience.
Both expressed a willingness to obtain arborist training.
McGahan, who said he also reviewed both men's Facebook posts, said Hanlon's grasp of state statues made the difference for him.
"This is two good men applying for the position," McGahan said. "I checked both your Facebook postings and I saw nothing negative toward this board or to any of its members.  I like some of the stuff you guys have put out there — it's positive — and that means something to me."
"It's nice to see you guys step up," said Selectman Bill Scott.
.