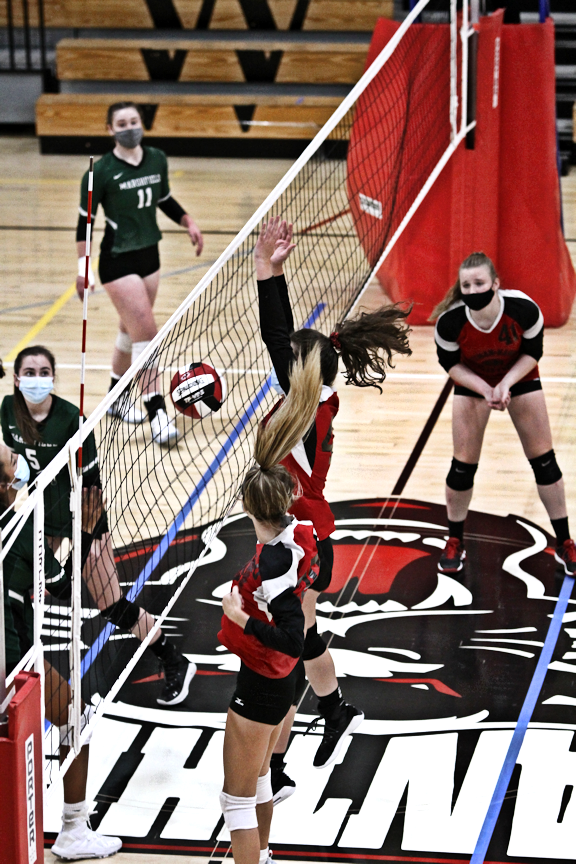 The girls' volleyball team did its best during a COVID-safe campaign.
---
The Whitman-Hanson Regional High girls' volleyball team showed plenty of fight this fall.
After winning just two matches during the regular season, the Panthers dominated Pembroke in the first round of the Patriot Cup, sweeping the Titans 3-0 to keep their season alive.
"The high point of the season was winning against Pembroke," said second-year W-H head coach Samantha Richner. "The team was so excited to not only win, but to continue playing."
W-H's run came to an end in the next round at the hands of Plymouth North, as they finished the season with a 3-10 record.
"I am extremely proud of this team, not only for how they competed, but for how well they adjusted to all of the new rules and regulations due to COVID-19," Richner said.
The toughest change?
"I think having to wear a mask while playing was the most challenging for them, but no one ever complained," Richner explained. "They just wanted to play and were thankful to be able to this year."
Senior captain Sophia Berardinelli was tabbed a league all-star, after leading the team with 162 assists, 142 digs and 30 aces.
"[She] was one of the most well-rounded players on the court," Richner said. "Sophia stepped up this season as captain but also as one of the few players who played in every single set this season."
Junior captain Lily Welch was that other player. She paced the Panthers with 73 kills and 29 blocks, while her 84 digs ranked second. The versatile Welch spent time in both the front and back row.
"Lily was the youngest of the three captains, but you would never know it," Richner said. "She played in every single set as well and played all the way around the court which was huge for our team; we needed her out there."
And with Welch back next season, along with juniors Anna Stone, Megan Stone, captain-elect Abby Martin and freshman Riley Codero, the Panthers' future could be bright.