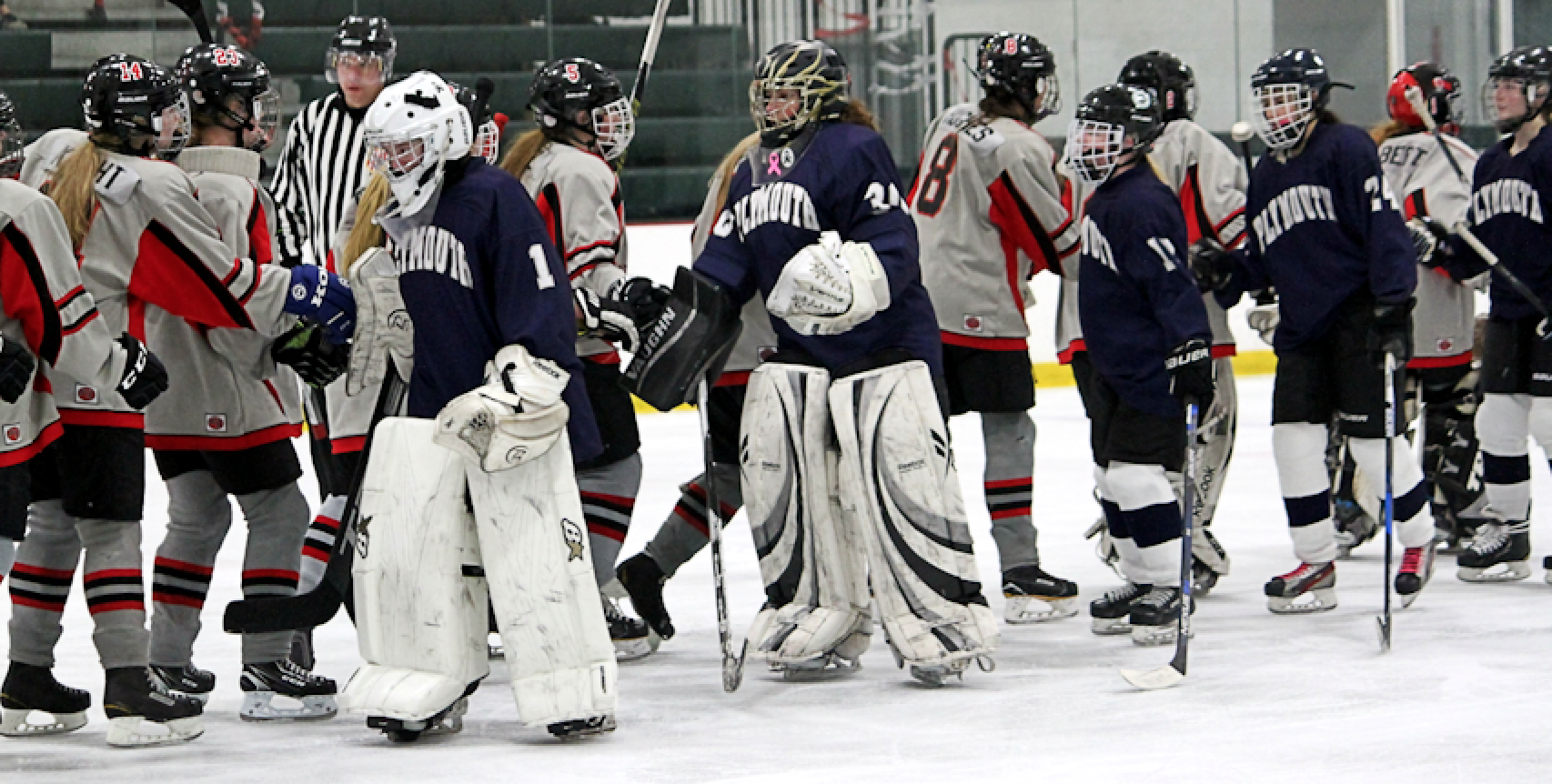 The Whitman-Hanson/Silver Lake high school girls' hockey team finished the season at 2-18 and had 15 new players on its roster. 
---
The 2017-18 campaign served as a learning experience for the Whitman-Hanson/Silver Lake high school girls' hockey team, which skated to a 2-18 record.
WHSL, which was coming off its first tournament victory since the co-op's inception in 2014, underwent a complete roster transformation. The Panthers lost 12 players off last season's roster, which included three of their key defensemen, their lone goaltender and 80 percent of their goal scoring. The departures paved the way for 15 new players, 11 of whom were freshmen, to join the team.
The Panthers, who started the season 0-11, finally broke into the win column with a 3-1 triumph over Scituate on Jan. 27.
"It was a nice feeling for the girls to finally feel the winning situation," third-year WHSL head coach Kevin Marani said. "They never gave up, at practices they came upbeat, wanted to learn, practice on their skills. If you didn't know our record, you would have never known we had no wins."
One of those skills was passing.
"Every practice we worked on passing and we became not a good passing team to a pretty good passing team by the end of the year," Marani said. "Because we were so young and we started off with such a tough schedule, confidence means a lot. If you don't have the confidence, no matter how hard you're working or how hard you practice, it doesn't go that far. We're losing three girls, three really good leaders, but three girls, that's it we're losing from this team."
Also, midway through the season, WHSL added a goalie coach to work hand in hand with freshmen netminders Kat Gilbert (Halifax) and Rylee Moran (Whitman). Gilbert entered the season with no experience in between the pipes and Moran had little action herself.
"The improvement of those two girls from just getting that goalie coach were leaps and bounds," Marani said. "Rylie improved unbelievable. She's really into it, she really wants to practice. She's playing goalie over the summer doing a bunch of clinics so she's only going to go up. At some point, I'd love to be able to play two goalies. Kat's really into it now and she's starting to play. Both of them truly were the most improved players on our team."
WHSL surrendered just 16 goals in a four-game stretch from Feb. 3 to Feb. 16. In that span, the Panthers pulled off a 3-2 win over Plymouth. Marani sees a similarity between that Plymouth team, which went from 0-19-1 last winter to 14-4-3 this season, and his club.
"You can look at Plymouth, they had zero wins last year and they ended up having 14 wins this year," Marani said. "I feel like we're the exact same team Plymouth was the year before."
Manning the blue line was sophomore and Patriot League All-Star Natalie Nemes (Kingston), who led WHSL with 14 goals.
"I believe she is the best player in our league," Marani said. "When you're that talented and you're going through a tough season, she could have got down on her and her teammates, but she never did. She was always cheering on every player, no matter what the ability. She's just a great, great kid."
Sophomore Meagan Elwood (Kingston) also provided a much-needed spark for WHSL's offense, ending her season with 10 goals.
"She's a pure goal scorer," Marani said. "She can score, she has a great shot, [and] gets to the net which is what you want. Meagan was huge."
Freshman Emily McDonald (Whitman) ranked third on the team with three goals.
"In the tryouts, she was pretty good and every game she got better," Marani said. "Now she's one of the better players. We expect big things from her next year, absolutely. She's a very, very smart player, got great hands, strong skating. She's got all the ability. You could see if by the end of the year, she was carrying the play. She's a good player, very good player."
The young WHSL team will be in search of some leadership come next season as it will lose senior captains Shannon Elwood (Kingston) and Colleen Hughes (Hanson) along with classmate Emily Knight (Hanson), all of whom were four-year players.
"We're losing three girls, three really good leaders," Marani said.
As for the future, Marani believes his team will only get stronger due to the struggles sustained this winter.
"It's pretty easy when you start losing to start finger point and start blaming people and there was none of that," Marani said. "They stayed close-knit, they stayed friends, good teammates. It was a good learning situation for all of them. It was a tough season, but the way that they battled through everything and kept a positive attitude, it's only going to make them better next year."