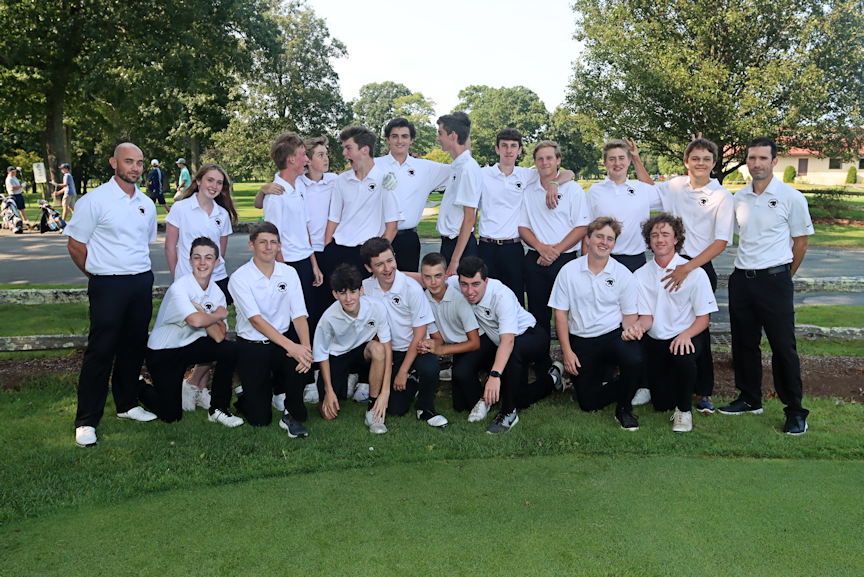 The boys' golf team hopes to hang tough this season.
---
Don't put too much pressure on yourself.
That's Brian Dempsey's message to his Whitman-Hanson Regional High boys' golf team.
"This sport, unlike others, will stay with these players for the rest of their lives, so the more they can get out of it now, the better off they will be down the road," said the 10th-year head coach. "We may not win every match, and we may not always have the best shots, but if we can accept that and always try to play present, we can hopefully gain a lot more."
The Panthers are coming off a 1-10 abbreviated campaign last fall. Additionally, they graduated five seniors, headlined by 2020 Patriot League Keenan Division All-Star Aidan Miller.
"The overall goal this year is to not just enjoy the season and make the most of it, but to be as competitive as we are capable," Dempsey said. "… this year will look very different than what most of the team has come to know over the past couple of years. Of course we want to stay competitive and put ourselves in a position to win, but the reality is that nothing is guaranteed and I really want the team to appreciate what they have. All that being said, if we can maintain a positive attitude and enjoy our time together and on the course, I think that ultimately helps us to accomplish our goal."
Dempsey said he believes his team's strength is its balance.
"We have wide range of talent, experience, and ages, which I think can help to keep things in perspective for us and not let anyone feel like they are either outnumbered, outplayed, or most importantly, left out," Dempsey said. "I'm hopeful that our leadership can help to mend any gaps between them and utilize everyone's experiences to better the team."
As for improvements, Dempsey said he wants his club to focus on understanding the game a bit more.
"Realizing that practice isn't just pounding through a bucket of balls at the range, but instead being deliberate with our choices and being purposeful in our approach to it," Dempsey said.
Seniors Matt Casarano, Pat McBroom, Chris Ross and Drew Sullivan will captain the Panthers.
"All four of these guys bring something different to the table, whether it's the experience, academics, work ethic, grit [or] resilience," Dempsey said. "Hopefully because there are four of them, it takes the pressure off of each of them to relax and be able to play more comfortably and consistently, while modeling good work habits to the rest of the team."
McBroom is W-H's No. 1 golfer, but Sullivan has also shown some improvements, according to Dempsey.
"I'm hoping that more players can step up and surprise us with their talent," Dempsey said.
There's a chance it could be a newcomer. The Panthers boast six on this year's squad.
"Everyone who is new to the team seems to really love the sport and is enthusiastic about improving," Dempsey said. "We have one freshman, Cooper Britton, who brings a lot of tournament play experience and dedication to the sport to the team, so we're also excited about that."
W-H is back in action Tuesday, Sept. 21 at 3:30 p.m. when it hosts North Quincy at Ridder Farm Golf Course.
"I really just want to see our team be competitive and show that they care," Dempsey said. "There's a fine line in golf about getting too upset about a shot, hole, score, or match and not showing any concern at all, but I'm hopeful that we can be a respectful team, regardless of wins and losses, and can learn from our experiences to hopefully grow as a team and individuals."