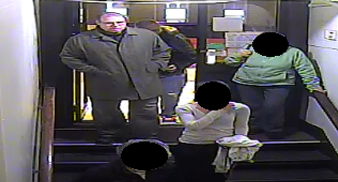 On Tuesday, Dec. 16, 2014 at 8:01 p.m. the Whitman Police Department received an E911 call reporting that an older male party wearing a long coat carrying a baseball bat walked into the Cardinal Spellman Center where several children were attending CCD classes. This male party had earlier entered the Holy Ghost Church. While in the Cardinal Spellman Center the male party was confronted by one of the teachers and asked if he needed assistance. He entered the gymnasium where there were approximately 20 children between the ages 10-13 years old. He then uttered some profanities and then exited the building.
In the parking lot outside of the building the male party smashed the windshield of a vehicle and then left the area in a dark-colored sedan with a moon roof.
Officers stayed on the scene until all of the children were picked up by their parents. The male suspect is described as follows: a white male in his 40's or 50's, salt and pepper hair, approximately 6'2", balding, and rectangular framed glasses.
Images were recovered from surveillance cameras inside the Holy Ghost Church and the Cardinal Spellman Center. Whitman Police Chief Scott Benton is asking that anyone with any information concerning this suspect call the Whitman Police Department at 781-447-1212 and ask for Detective Mark Poirier.