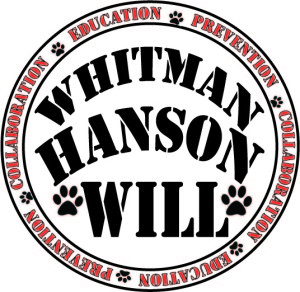 WHITMAN — A new logo has been adopted to reflect the expanded membership of the Whitman Will group, formed to combat the growing problem of opioid abuse.
Hanson police, fire, parents and other concerned residents have become actively involved in the group now known as Whitman Hanson Will Coalition. The group is aligned with Rockland and East Bridgewater as a regional coalition addressing the issue and partially funded by Brockton's Opioid Overdose Prevention Coalition, according to Selectmen Chairman Carl Kowalski. The regional group next meets June 30 at Whitman Police Station.
"It's the two towns," Kowalski said of the Whitman Hanson Will name. "It would be nice if there were more parents involved."
The logo, a revised version of a design by WHRHS art student Alexa Herlihy, reflects Hanson's participation.
Students in Christina Maher's computer graphics, cartooning and illustration classes created potential logo designs for the organization.
"There were many strong designs to choose from," Maher said of the submissions voted on by Whitman Hanson Will members representing police and fire departments; school administration, central office, special education, staff and guidance; selectmen and parents. "The students should be very proud."
Elizabeth Ingram's design earned second place and Amanda Espling was third in voting.
The student involvement in the logo design was an indication of how important the group views school participation in the effort to reverse the tragic statistics seen regarding opioid abuse in recent years.
From July 6 through August, 10 W-H students under the direction of Maureen Leonard will be working with Amanda Sandoval at the Brockton Opioid Overdose Prevention Coalition to produce a multi-media project to communicate how substance abuse affects them, Kowalski said.
This fall, high school students in the freshman through junior classes will be taking part in a Communities that Care Survey, a program funded through the Plymouth County DA's Office Director of Grants and Sponsored Projects Edward G. Jacobs, in June.
"In 2013 our office began looking at the issue of drug and alcohol abuse in the community, but really began to see the numbers … and realized that clearly there was an opiate and prescription drug problem within this southeastern area of Massachusetts," Jacobs told the School Committee in May.
That data was from police departments, first responders, emergency room personnel, treatment centers and the Department of Public Health.
Kowalski said last week that Whitman Hanson Will had hoped to conduct the survey this spring, but that it hadn't received School Committee approval in time.
"This works out perhaps better because next year's freshmen will be able to be involved in the survey," he said. "The high school is getting really involved, primarily I think due to the energy of the Athletic Director Bob Rodgers, who's been an amazing member of our committee."
Whitman Hanson Will has its own Facebook page and Kowalski suggested the town of Whitman web page might also be used to advance publicity for the coalition's events.
"People should not only know about the issues that are going on in our community, but they should know of a way by which citizens can try to help make it better," he said.
Town and police officials were meeting Thursday, June 18 to accomplish that link.
Since Jan. 1, police have seen identical statistics — 23 overdoses and three deaths — in Whitman, according to Kowalski. Hanson Police Chief Michael Miksch said his community has seen 17 overdoses with four deaths — three from heroin—  over the same period.
He asked for monthly updates on the overdose numbers with Police Chief Scott Benton's monthly report to the board.
"What I don't want to encourage are people calling to find out who it happens to," Kowalski said. "That's not the public's business. It's our business as a community to be aware that this kind of thing is happening and there are some people here who want to do something about it."