Hanson repair plans reviewed as Selectmen consider amending the regional agreement for the W-H regional school district
HANSON — Selectmen say it may be time to amend the regional agreement for the W-H regional school district in an effort to codify the board's authority to approve emergency school building repairs costing more than $5,000.
Selectmen Chairman Bruce Young also suggested that it might be time to adjust that figure for inflation over the 18 years since the over $5,000 repairs clause was added to the regional agreement in 1997.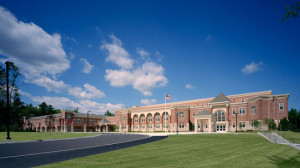 An emergency repair to a heating coil at Maquan School's cafeteria  — costing $5,276 — has cropped up this week.
Facilities Director Ernest Sandland said replacement could cost as much as $16,000, according to Selectman James McGahan.
Young expressed concern that selectmen are asked to authorize emergency repairs, such as the heating coil, in the hope that Town Meeting will vote to reimburse the school district, with no guarantee that will happen even for needed repairs.
"The regional school agreement really has to be amended," he said. "There's no place in the regional agreement that provides for selectmen to give the go-ahead. … But we've been doing that for years."
He also said he favored a change to the $5,000 in repairs clause to make towns responsible only for the costs over the $5,000 mark — in the case of the heating coil, $276.
"If this was $4,900, the school committee would be bearing the entire amount of money," Young said. "But because this is $5,276, it's over $5,000 [and] we've got to pay for the whole thing, which to me doesn't make a heck of a lot of sense."
He said an adjustment for inflation is also needed and suggested the school district should be conducting continual reviews of the regional agreement.
"Either bring the [threshold] up to $10,000, or even more, or we pay for anything over $5,000 and they pay for up to $5,000," he said.
Selectman Bill Scott agreed that the towns should only be responsible for repairs over $5,000.
The discussion followed a budget process update by interim Town Administrator Richard LaCamera Tuesday, Nov. 17 on the fiscal 2016 municipal budget and concerns about projects included in the school department's capital improvement matrix.
"One of the things that we need to look at is what does that all mean and do we need all that," LaCamera said of the   school departments' capital plan. "The second or third issue has to do with the capital plan the Board of Selectmen is working on."
The highway barn and Plymouth County Hospital site projects are among those selectmen want to see go forward, he noted.
"Those items should be included in the plan whether we do anything or not," he said.
McGahan noted the town's capital improvement matrix does not always reconcile with the school committee's list.
"We have to somehow get them in sync," LaCamera said. "We can't have two lists out there at the same time with multiple projects."
LaCamera said he is starting the budget process based on level-service spending plan, noting that union contracts are now up for negotiation so no cost-of-living increases are included until negotiations are completed.
Tax rate set
Selectmen also voted unanimously to set a uniform tax rate of $16.55 for fiscal year 2016. Residential and small commercial exemptions were not recommended, both in keeping with past actions as not applicable to town properties.
Assessor Lee Gamache presented the Board of Assessors' recommendations during a public hearing at the selectmen's meeting.
"That's not a certified rate yet, but that's the calculations," Gamache said of the figures presented to selectmen illustrating the impact of a uniform rate as well as shifts of 1, 5, 10 and 25 percent should split rates be chosen. "Historically, Hanson has not ever adopted the split tax rate."
The Board of Assessors did not recommend a split rate, arguing it could end up discouraging business development in town.
The average single-family home assessment is now at $292,100 with a tax of $4,834.21 and the average commercial assessment is $481,800 with an annual tax of $7,973.79 under a uniform rate.
The assessors also reported that the fiscal 2016 estimated tax levy is $18,880,954 with an excess capacity of $37,472.
"You folks are there as the unsung heroes of how the town actually works," said Scott. "I personally believe that our people that work for us are our most important resource."