Hanson author writes about Boston El trains
HANSON — For Hanson resident Lawrence D. Mills, retirement has literally opened a new chapter in his life — several of them in fact — as he recently completed work on a book saluting Boston's erstwhile elevated train system.
The book ["Main Line Elevated," Xlibris, 83 pages, hardcover $61.99/large format paperback, $51.99/E-book, $24.99] is not a history, but rather a photo essay of the last years of Boston's Main Line elevated train.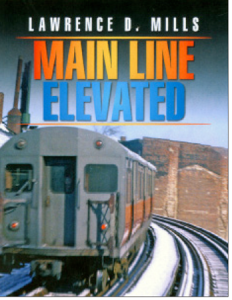 "It describes what it was like to see and use this transportation on one of the heaviest transit lines in the city of Boston," Mills states in his promotional materials.
The elevated trains also afforded the chance for Mills and his sister to spend hours of locomotive and people watching at Dudley Station from a display window in Roxbury's Ferdinand's Furniture Store where his parents met on the job and his father worked again after WWII.
The Charlestown elevated route ended in 1975, followed by the one in Roxbury and Jamaica Plain in 1987, and "there are adults today that never saw it" he said of his reason for doing the book.
"It's a way to see what life was like in those days because you see everything — the cars, the way people dressed, the ads — the whole business," he said. "My view has always been that these pictures don't do any good sitting in a closet. They should be where people can see them."
While he never worked for a railroad or the MBTA, Mills continued his lifelong interest in railroads and transit systems during his military service, which included postings in Germany, and during a career with the Federal Protective Service, which protects federal buildings, for more than 35 years. His FPS service was largely in Boston and other New England sites.
"I've had this as a hobby all my life," he said of his collection of El photographs. A book he bought about the Third Avenue Line in New York City provided the spur to create his own book.
Most of the photos are his from a personal collection dating back to 1964, except for a half dozen from Rockland resident George Jason, a few from a retired Boston Fire Lt. Jim Teed and some black white photos from Mills' father Thomas.
"This was something I have been thinking about for years and when I retired, we sat down and [decided to] do it," he said. His wife Michele, a former librarian, used her expertise and connections to find Xlibris, a self-publishing firm in Bloomington, Ind.
"The quality of the book turned out well," he said. "I was impressed with that."
Mills had done all the scanning and layout of photos on his home computer.
"That's one of the good things about his pictures, he has all the old cars, the old buildings, the old signs," Michele said. "They're historic."
Mills plans to make appearances at train and hobby shows — such as one held in Springfield next month — as his primary merchandising avenue, but the book is also available online via Barnes & Noble and Amazon and at rail museums.
Michele noted that the book will also be in The Library Journal so town libraries and special libraries may purchase it if they wish.
The book provided Mills with a project during last winter's worst weather. He is now looking toward the next project while he continues interest in trains.
Even his move from Brookline to Hanson hinged on the Commuter Rail service, as his job did not initially include a "take home" vehicle.
"It was a convenient commute and they were building the area up," he said.
"We worked together on the house," Michele said. "Larry told me what he wanted and I worked with Jack Conway himself [to design it]."
Conway had been a friend of her family in Cohasset for years.