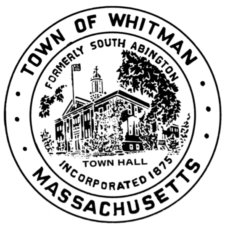 WHITMAN — Town Administrator Frank Lynam has announced the funding total involved in the debt exclusion question on the Saturday, May 18 Town Election ballot. Polls are open from 9 a.m. to 5 p.m. in Town Hall for Whitman's Town Election. Hanson votes from 10 a.m. to 5 p.m. at Hanson Middle School in its Town Election.
"Under the Proposition 2 ½ language, a debt exclusion [question] doesn't contain an amount," Lynam said. "It only authorizes you to exclude what it takes to make a payment for that year."
The fiscal 2020 payment on the debt for the police station construction and renovations to Town Hall and the fire station, which is being decided Saturday, is $687,025. A yes vote will authorize the town to raise that amount.
Lynam said the figure represents a tax increase of $129.15 on a median house value of $307,500 — or an average of $10.76 per month.
"It will enable us to address the capital needs we had to leave on the table at our Town Meeting last week," he said. With the debt exclusion making that debt payment the following funds could be freed up within the levy limit: $329,000 in vehicle purchases; $240,000 in road work; $268,000 in building repairs and $135,800 in security provisions for all of the schools. While that totals more than the $687,025 it provides an opportunity to begin prioritizing the funding of those needs, according to Lynam.
"That money, although on a declining basis, will be available each year, to commit to capital or to reserves as the case may be," he said. "The override will do much more to correct it, but that's not what's happening next week."
Selectmen Chairman Dr. Carl Kowalski also reviewed the Community Assessment Survey process and how a report on the results are being written up in a report the town will use in future budget planning.
"We placed ourselves in a precarious position this year where we would probably need a heavy override this year," Kowalski said about funding directed to the school budget at last year's Town Meeting. "What we did to respond to that was that, in the summer months, we received help from Bridgewater State University to compile a community survey … to lay the foundation for a strategic plan." He added that the strategic plan would only be as useful as the statement of values the town possesses."The reason for that community survey was not really to determine how we were going to pay for what we would like to be, it was to give a foundation for what we would like to be," Kowalski said.
The town has also contracted with the Collins Center at UMass, Boston to draft a capital plan, a draft of which as already been received and sent back for additional work.
"Right before Town Meeting we had a decision to make about what to put on the ballot for the May 18 Town Election, whether it would be a debt exclusion that deals with the debt for the police station and the repairs to the Town Hall and the fire station, a sizeable Proposition 2 ½ override, primarily to deal with the increase in the schools needed in order to do level-service, to do one or either or to do both," Kowalski said.
Kowalski said the debt exclusion, while not what he had envisioned, made sense so that more discussion and explanation of the override — now planned for October — can be held, to involve more people in its construction and explain the need to residents.
"It's critical that that override be successful," Kowalski said. "It's a place that we need to be [in], a place that's going to mean and awful lot of work over the summer and early fall."
STREETLIGHT UPDATE
Assistant Town Administrator Lisa Green and Lightsmart representative George Woodbury explained a wiring problem discovered in streetlights after they had been purchased from National Grid.
A former DPW Director in Lexington, Woodbury wrote the state law that permits towns to buy streetlights from utilities. Whitman's annual streetlight bill had been $143,000 to $145,000 per year. Purchasing the lights is expected to save the town about $55,000 a year, increasing to more than $100,000 per year with the change over to LED lights. But the wiring problem — underground-rated wires that do not stand up to UV rays were installed by Eastern Utilities Associates and sold to New England Electric Energy Services in 1999, which were bought by National Grid in 2000. National Grid maintains that the streetlights have been sold to the town "as is" when they were confronted by the now-disintegrating wires.
Woodbury said a case taken to the Public Utility Control Commission would take two years to win; right now the MAPC would help the town pay 30 percent of the replacement cost right now. He "leaned on" National Grid, suggesting a dimmer control for which the company could obtain state funding worth another $8,000. Another $27,000 could be saved based on the timing of the light purchase, according to Woodbury, and a lower installation cost for the wiring has been negotiated. The net result would be that most of the cost to replace the wiring would be covered.
Selectmen supported the move.