Mattress sales aid WHRHS music as annual fund-raising event
If you are looking to buy a new mattress — and industry research indicates that every year 10 percent of you are— the students in Whitman-Hanson Regional High School's band and chorus programs hope you come to them first.
The first of what is intended as an annual fund-raising event, a mattress fundraiser sale will take place from 10 a.m. to 5 p.m., Saturday, Nov. 7 as the WHRHS cafeteria is set up as a mobile mattress showroom, according to Jack Isaacs of Custom Fundraising Solutions. He runs the fund-raising events in Massachusetts.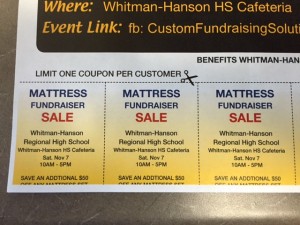 Similar benefit sales have raised $6,500 for Easton's Oliver Ames High School football team, $5,540 for Hingham High School's golf team and $9,350 for Norwood High School, among programs in more than 60 high schools in the greater Boston area. The average school mattress sale raises between $4,000 and $7,000, Isaacs said, and some schools raise more. Marshfield High School recently raised $12,000 for one of the school programs through a mattress sale.
The W-H sale is aimed at purchasing band instruments and defraying travel expenses for the band, chorus and High Frequency Show Choir, according to teachers Devin Dondero and Donald Legge.
Students making referrals to the sale receive a commission in their own account.
"He showed up at my door," Legge said of how they decided on doing a mattress sale. "I took his card, but in the back of my head I was saying, 'This is crazy — it'll never work.' But, after going to his website (CustomFundraisingSolutions.com), and seeing all the other successful schools around the area, I was convinced."
Isaacs also spoke at a parents' meeting last week to explain the sale to them.
The sale will feature brand-name mattresses, adjustable beds, and luxury pillows with layaway and delivery, within five to seven business days, available. Cash, check and credit card payments will be accepted and varieties from firm to pillow-top, orthopedic to memory foam are included at prices up to 50 percent off retail.
"You'll see everything you'd see as you walk in a mattress store, except because we come to the school, our showroom essentially is free — we have no overhead," Isaacs said Friday, Oct. 30 before briefing students on how to market the sale. "All the money stays locally in the communities that everybody loves."
Prices at the W-H sale range from $249 and up for twin size; from $289 for full; $299 and up for queen and $499 and up for king/California king.
Student referrals can not only earn $25 commissions for the students, but also bring an additional $50 off any mattress set for the referred customers. Prizes are also raffled off among students after a threshold of 40 referrals come to the sale.
Posters about the sale, being placed at local businesses also bear five $50 coupons — limit one per customer.
Custom Fundraising Solutions runs fund-raising sales from 50 locations in 34 cities nationally. All mattresses are brand new with full factory warranties.