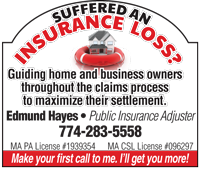 Edmund Hayes • Public Insurance Adjuster
Guiding home and business owners throughout the ENITRE claims process
to maximize their settlement! That includes all paperwork and negotiations!
Specialties: fires, floods, ice, wind damage, soot damage
I do an estimate of the building and contents that are damaged. I report the claim, negotiate the damages. I help interpret your policies to make sure you are taking advantage of everything the insurance company owes you!
Did you know that you, a homeowner, have the right to hire who ever you want to fix your house? Don't let the insurance company dictate who comes in to work on your house! I will often recommend good restoration companies and contractors whom I have worked with in the past – and that I trust.
This means you receive more than enough money to complete all repairs incurred through the loss. I work directly for home and business owners, fighting against the insurance companies. You have the right to hire your own public insurance adjuster to represent you and deal with insurance company. In most instances, you don't even have to speak with insurance company at all throughout the claim. I deal with them completely.
I have been involved in insurance restoration for the past 25 years, I am a certified mold and asbestos remediator. I have held my Massachusetts Construction Supervisor license for 15 years. I am a certified master restorer and am indoor air quality hygienist.
I have helped hundreds of home and business owners on the south shore get back whole from their insurance losses with a 99% Satisfaction Rate. In most cases, my clients have received almost twice as much as they would have gotten from insurance companies if they had gone about it themselves.
My extensive knowledge of construction and insurance industries practices allows me to navigate home and business owners through the difficult process of an insurance claim. I prepare all necessary documents and estimates detailing the entire loss, documenting the estimate with photos. I prepare the estimates in an estimating form that the insurance company uses and understands.
My estimates are extremely detailed as not to miss any items that need to be addressed. The insurance company wants all estimates for damages to be broken done as much as possible. The more detail the harder it is for them to deny or reduce the amount of settlement they give you. My estimates are done to get the most amount of money from the insurance companies